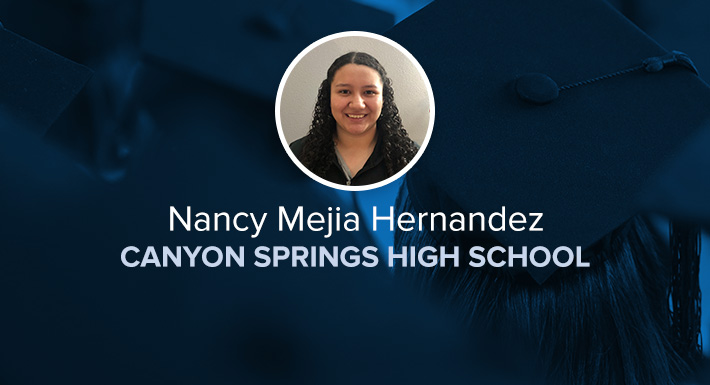 30 Apr

Star Graduate 2019 – Canyon Springs

Canyon Springs High School and the Leadership and Law Preparatory Academy has nominated Nancy Mejia Hernandez as its 2019 Star Graduate.

Nancy moved from Jalisco, Mexico with her mom when she was just two months old. Spanish was her first language, and she did not speak English until she entered kindergarten. In order to support her family, Nancy's mom worked multiple jobs, and relied on Nancy to help take care of her younger siblings. Nancy worked tirelessly to overcome these obstacles and still made school her #1 priority.

When Nancy began her freshman year at Canyon Springs, she joined mariachi and the performing group where she excelled at playing the guitar. She also joined yearbook, where she served as editor her junior and senior years. Her unique ideas and ability to collaborate with others helped get our yearbook done on time this year! Nancy has taken Honors and AP classes during all four of her years at Canyon Springs, and maintains a 4.2 weighted grade point average.

Not only has Nancy excelled as a student and active participant in the Pioneer community, she has also demonstrated a positive attitude and a commitment to helping others. She will be attending the University of Nevada, Reno in the fall of 2019, where she plans to study engineering and find a career that not only will help her have a successful future, but also gives back to her community.

We are so proud of Nancy and her accomplishments!

Check out more of our Star Graduates at ccsd.net/students/star-graduates.