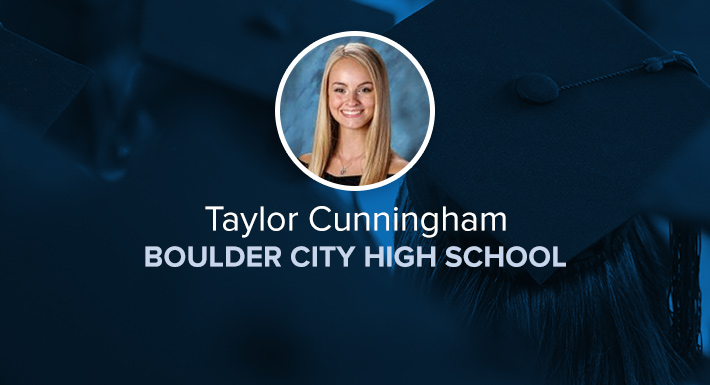 07 May

Star Graduate 2019 – Boulder City

Boulder City High School is proud to announce Taylor Cunningham as its Class of 2019 Star Graduate.

Never one to shy away from an academic opportunity or challenge, Taylor is a valedictorian candidate with a perfect 4.8 grade point average, an AP Scholar with Honor and scored in the 99th percentile on the ACT.

Taylor has the keen ability to manage the pursuit of academia, while maintaining the capacity to relate to her peers. She is not just the head of her class, she's a three-year varsity cheerleader serving as captain for the past two years, and a four-year varsity track athlete.

Further, Taylor is a member of National Honor Society, Aquila Chapter, where she has served as president this past year, a member of the BCHS Interact Club and a tireless volunteer with over 400 hours of community service.

Taylor will attend Pepperdine University next year, where she will major in biology with a pre-medical emphasis, and be a member of the Waves Cheer Squad.

Check out more of our Star Graduates at ccsd.net/students/star-graduates.