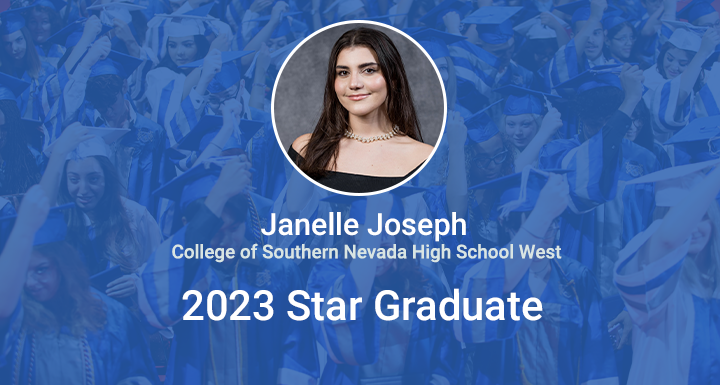 12 May

Star Grad-CSN West High School

Janelle embodies all that is good about young people today; she is determined, dependable, compassionate, and innovative. As a result of her tenacity, she has developed very clear educational and vocational goals. In an effort to achieve these goals, Janelle has pursued a rigorous college preparatory curriculum. While being proactive in making her goals a reality, Janelle applied to and was accepted at the College of Southern Nevada High School, a competitive dual credit program. Janelle has proven successful in a college environment and is on track to earn an Associate Degree before her high school graduation.
Janelle currently serves as the Student Body President at CSNHS where she has spearheaded many events and projects. She is always on the lookout for ways to help multiple communities. In addition to her school activities, Janelle has been involved in numerous volunteer projects both in and out of the United States:
 Teach to Lead: Created a plan and outline to incorporate throughout the whole school district. Janelle presented this outline to more than 100 teachers and Clark County School District members during the online school year about how to create an inclusive culture of engagement for students.
 Nevada State Democratic Party: Volunteered at political caucuses in Nevada during the presidential elections in the United States and advocated for students within Nevada.
 Red Cross (Lebanon): After the devastation left in Lebanon by the 2020 explosion, Janelle raised money and helped the Red Cross from the United Arab Emirates. She also aided Red Cross by volunteering in their hospitals working with patients/doctors and working to alleviate disaster areas.
 Helping in Egypt (Fight Hunger): Personal project created by Janelle and her mother. They fed more than 35 families in Egypt. They also got the community involved in Alexandria, Egypt to help feed and provide shelter to abandoned animals on the street.
 Lions Club: Worked and ran canned food and blanket drives to serve homeless individuals and families in need.
 Current Project: Working to set up a walk to spread awareness about mental health through the National Alliance on Mental Illness.