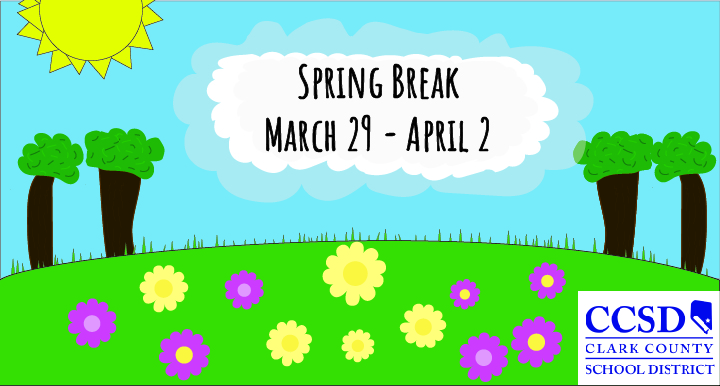 18 Mar

Spring break starts March 29 – April 2, classes resume April 6

Spring Break is being held from March 29 – April 2, 2021. There will be no school on April 5, 2021 to serve as the contingency day. School will be back in session on Tuesday, April 6, 2021.

Watch Superintendent Jara's Spring Break video message, here.

To view CCSD's calendar, visit https://www.ccsd.net/district/calendar/.

CCSD Food Distribution sites will also be closed. However, school meals will still be available on a select day.

During the one-week Spring Break, students or parents/guardians will be able to pick up school meals at the following date and time:
Tuesday, March 30, – Four breakfast meals and four lunches will be available for pickup by students or parents/guardians at middle school and high school Food Distribution Sites between 7 a.m.-10 a.m.
Visit https://ccsdfs.info/springbreakdistribution to find the Spring Break Food Distribution Site nearest you.
CCSD Food Distribution Site regular operating hours and locations will resume Tuesday, April 6.
The Clark County School District Connection Line will be available for students Saturday, March 27, 2021 at 8:00 a.m. through Monday, April 5, 2021 at 4:00 p.m. Students who may wish to speak to a caring counselor or social worker may call 702-799-6632 between the hours of 8:00 a.m. – 4:00 p.m. daily.
This telephone hotline is staffed by volunteers who are CCSD social workers and school counselors for students who would like to talk with one of them during the Spring break.
CCSD assumes no liability or responsibility for any injury or adverse outcome in connection with this volunteer service. Students and their families may also call 911, School Police at 702-799-5411, or SafeVoice at http://safevoicenv.org or at 833-216-7233.
---
The Family Support Center virtual call center, 888-616-2476 will be closed in observance of the CCSD Spring Break from Monday, March 29th – Monday, April 5, 2021.
The phone lines will re-open at 7:00 am on Tuesday, April 6th in both English & Spanish to assist qualified families with internet & devices.
El centro de llamadas virtual del Centro de apoyo familiar, 888-616-2476, estará cerrado en observancia de las vacaciones de primavera del CCSD desde el lunes 29 de marzo hasta el lunes 5 de abril de 2021.
Las líneas telefónicas volverán a abrir a las 7:00 am el martes, 6 de abril tanto en inglés como en español para ayudar a las familias calificadas con Internet y dispositivos.