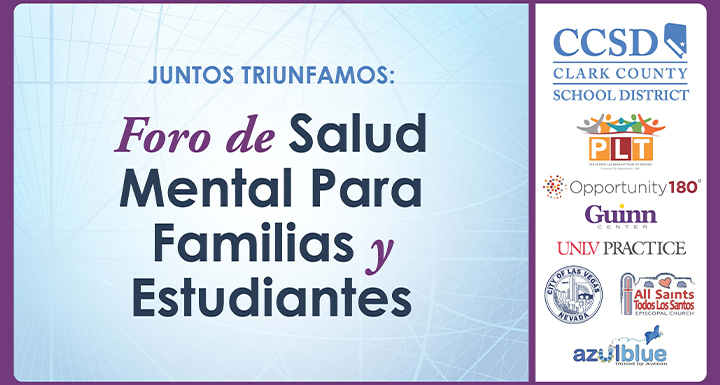 03 May

Spanish Youth Mental Forum for Families and Students, May 6

El Equipo de Liderazgo de Padres (PLT) de Nevada, impulsado por Opportunity 180, en asociación con el Distrito Escolar del Condado de Clark, se enorgullece de presentar un Foro de Salud Mental Juvenil especial para familias y estudiantes en español el 6 de mayo de 2021, a partir de las 4:30 PM. El evento se transmitirá en vivo en ccsd.net, así como en la página de Facebook del CCSD.

Organizado virtualmente, este foro se llevará a cabo completamente en español, dirigido por miembros de la comunidad y expertos que se enfocarán en los desafíos específicos que enfrentan los jóvenes en las comunidades de habla hispana. El foro está diseñado para informar, educar pero, lo más importante, brindar apoyo a todas las familias de nuestra comunidad mientras navegamos por la salud mental de nuestros niños.

El evento será moderado por la concejal del Distrito 3 de la ciudad de Las Vegas, Olivia Díaz, y contará con comentarios de la vicepresidenta de la Junta de Síndicos Escolares del CCSD, Irene A. Cepeda, el superintendente Dr. Jesus F. Jara y otros líderes comunitarios.
---
The Parent Leadership Team (PLT) of Nevada, powered by Opportunity 180, in partnership with the Clark County School District, is proud to present a special Youth Mental Health Forum For Families and Students in Spanish on May 6, 2021, at 4:30 p.m. The event will be streamed live on ccsd.net as well as on the CCSD Facebook page.
Hosted virtually, this forum will be conducted fully in Spanish, led by community members and experts who will be focusing on the specific challenges that the youth in Spanish-speaking communities are facing. The forum is designed to inform, educate but most importantly, provide support to all of our community's families as we navigate our children's mental health.
The event will be moderated by City of Las Vegas Ward 3 Councilwoman Olivia Diaz and will feature commentary from CCSD Board of School Trustees Vice President Irene A. Cepeda, Superintendent Dr. Jesus F. Jara and other community leaders.