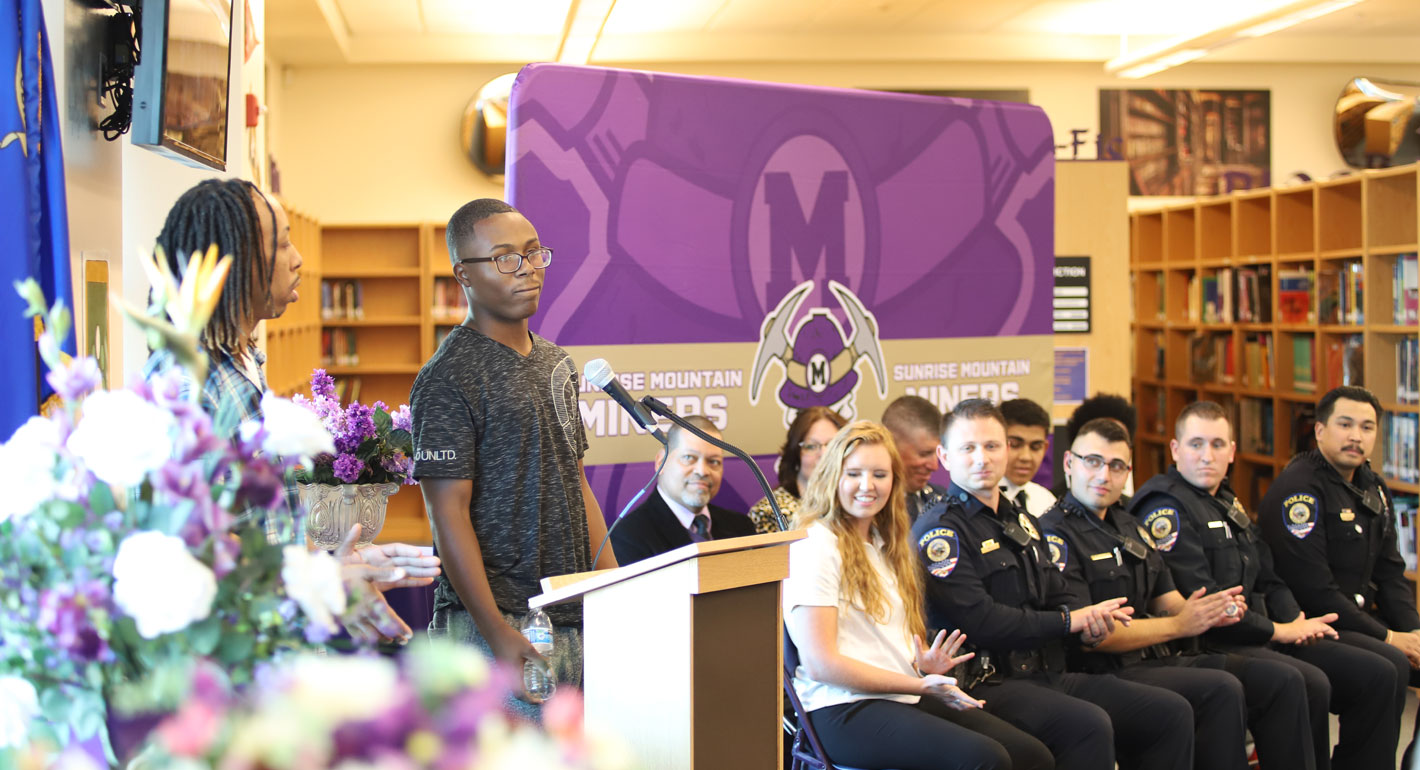 01 Nov

Quick actions by CCSD student, staff and school police helped save student's life

In a ceremony Monday at Sunrise Mountain High School, Superintendent's Challenge Coins were given to a student, school staff and Clark County School District (CCSD) Police Department officers who were involved in saving the life of a student there earlier this school year.

The student collapsed during a physical education class in late September, wasn't responsive and not breathing. A friend of his quickly got assistance and school staff used an automated external defibrillator (AED) and performed life-saving procedures for which they were trained.

CCSD Superintendent Dr. Jesus F. Jara, who made the presentation to kick off the observation of American Education Week, said teachers, support professionals, administrators and police officers work hard to ensure students have a rich and rigorous education in a safe environment.

"Today, we are here to recognize staff who have gone above and beyond the call of duty and worked to save a student's life," Dr. Jara said. The superintendent added that, according to the cardiologist who read the AED data, the student would not have been alive if not for the fast response from Sunrise Mountain High School's AED team. Thankfully, the student is now back at school.

Joining Dr. Jara during the ceremony at Sunrise Mountain High School were Principal AJ Adams; CCSD Chief Communications and Government Relations Officer Maria Marinch; CCSD Police Department Captains Henry Blackeye and Robert Mayer; and CCSD Health Services representatives Jeff Dahlke and Ramona Stanley.

Jerry Bouck, Commander of Veterans of Foreign Wars Post 12093, and Senior Vice President Carol Webster of Ladies Auxiliary VFW Post 12093, also were on hand and distributed certificates to those who saved the student's life.

Those receiving Superintendent's Challenge Coins included:
Issa

–

the student who quickly obtained assistance for his friend in duress.

Kennedy Williams

– a substitute PE teacher who heard the AED call and ran the AED equipment out to the football field.

Jessica Thomson

– a trainer and substitute teacher who was the first to begin CPR.

Neftali Torres

– an assistant principal who applied the AED.

Senior Master Sergeant Darryl Lebouef

– a JROTC instructor who performed CPR.

Three CCSD police officers who received the call and rushed to help and who all performed CPR.

CCSD Police Officer Andrew Beatty
Officer Brandon Griebel
Officer Chasen Curi

Leilani Shive

– an assistant principal who managed the scene and helped where necessary.

CCSD Police Officer Keith Sanchez – worked alongside the assistant principal to manage the scene.