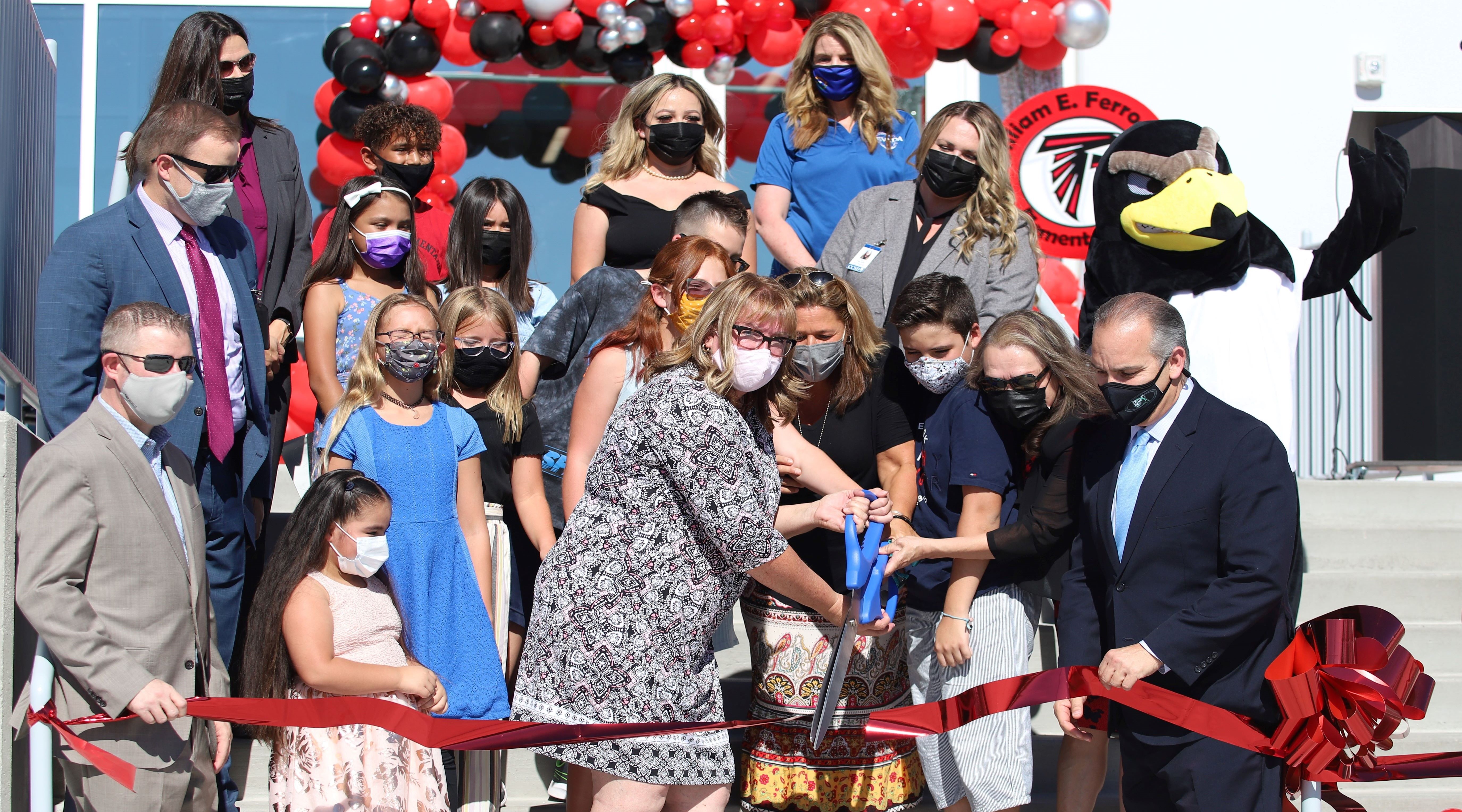 07 Jul

New School Year Paves the Way for New and Replacement Schools

Ribbon-cutting ceremonies at two new schools and five replacement schools helped usher in Clark County School District's (CCSD) 2021-2022 school year.

The ceremonies celebrated not only the contributions made by the schools' namesakes to the community, but also the important investment made in creating a 21st century education for students.

The schools will help with easing overcrowding and updating aging infrastructure with modern technology.

This is possible thanks to bonding authority approved by the Nevada Legislature that allows for CCSD to build new schools and renovate existing ones.

For this school year there were two schools built in new locations: Hannah Marie Brown Elementary School and Barry and June Gunderson Middle School. Additionally, five replacement elementary schools were built: William E. Ferron, George E. Harris, Mabel W. Hoggard, Sandy Valley, and Myrtle Tate.

The impact of the new, modernized schools replacing the previously aging schools cannot be understated. CCSD Superintendent of Schools Dr. Jesus F. Jara told Channel 8, following the ribbon-cutting ceremony at Harris Elementary School, that "we're going to deliver world-class education with 21st century classrooms."

The Las Vegas Sun's Ray Brewer toured Harris Elementary School before its opening. One of Brewer's takeaways from his story about what the modern, technologically advanced facility will mean to students: "Simply take one step into the school and the new-building smell signals opportunity."

In a Las Vegas Review-Journal story about the first day of school, Pamela Lindemuth, Principal of Barry and June Gunderson Middle School, which will serve the fast-growing southwest part of the Las Vegas Valley, said the school will be "an incredible place for students, staff, and this community." Congresswoman Lee, Assemblywoman Michelle Gorelow, Clark County Commissioner Justin Jones, Nevada Superintendent of Public Instruction Jhone Ebert, Superintendent Jara, and the school's namesakes, along with family and friends, attended the school's ribbon-cutting ceremony.

To learn more about namesakes Barry and June Gunderson, click here.

Those attending the ribbon-cutting ceremony for the Hannah Marie Brown Elementary School, located in Henderson, included namesake Hannah Brown, Congresswoman Susie Lee, Henderson Mayor Debra March, Superintendent Ebert, School Board Trustee Lisa Guzman, and Superintendent Jara. Trustee Guzman, in a Las Vegas Sun story about the new school, said it honors Brown's "beautiful legacy of compassion and giving."

To learn more about namesake Hannah Marie Brown, click here.

In a vital development this year, the Governor and state legislators authorized an extension of the capital improvement program, approving the rollover of bonds from 2025 to 2035.

Dr. Jara expressed his gratitude for the granting of the bonding authority, noting that the latest action from Carson City will potentially result in 13 new schools, 33 replacement schools, and modernization throughout the District.