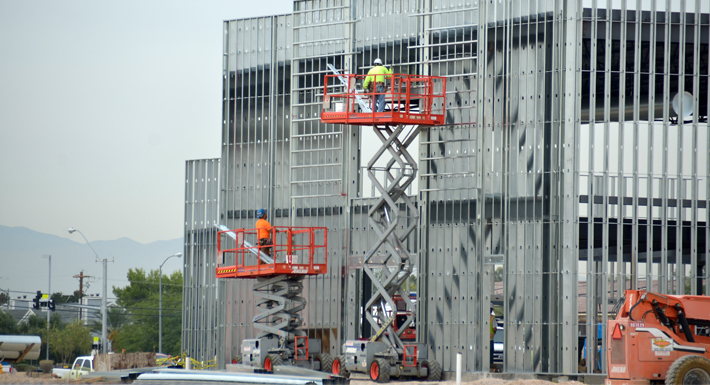 09 Nov

New CCSD Magnet School will become the nation's first Marzano Academy

While the Clark County School District (CCSD) held groundbreaking ceremonies earlier this year to signal the beginning of work on six new elementary schools, the district is also breaking new educational ground by opening one of those new schools as a Marzano Academy, which will be the first of its kind in the nation.

During their Oct. 13 meeting, the CCSD Board of School Trustees spent time discussing the new school with world-renowned education expert Dr. Robert Marzano, cofounder and CEO of Marzano Research and founder of the Marzano Academies.

While there are other schools around the country that use Marzano Academy philosophies, CCSD and Marzano have agreed to work together to open the first full-fledged Marzano Academy on a 19-acre site in northeast Las Vegas across the street from Manuel J. Cortez Elementary School.

This will be CCSD's 12th Magnet School and these students will engage in a technology-based curriculum focusing on the academic, cognitive and meta-cognitive skills that are foundational to computer science, and the STEM (Science, Technology, Engineering and Mathematics) model.

Although the Marzano Academy will be a Magnet School with 850 students, this location was specifically chosen in order to serve a majority of students that come from low-income households. Enrollment will be based on a lottery system but there will be a graded preference to students residing in that geographical area.

"We will be opening six brand new schools next year and that will create new employment opportunities for many of our existing educators," said Chief Student Achievement Officer Dr. Mike Barton. "We know the level of interest and buzz about working at the Marzano Academy is already growing and we are thrilled to be working directly with Dr. Marzano in opening this new school."

While each of the new schools will develop their own personality and teamwork strategies for high-quality education, the staff members who are chosen to work at the Marzano Academy will have direct contact with Marzano as he will conduct most of the staff training in person or virtually.

Marzano provided a view of what teachers at this school can expect:
Access to more than 300 research-based, instructional strategies.
Continuing support (including coaching) in developing expertise through personally selected instructional techniques.
Professional development which enhances student learning and professional expertise.
Systematic feedback regarding the areas of strength and the areas of need for each student.
Support in becoming a certified Marzano High Reliability Teacher and the opportunity to interact with and training others who aspire to become high-reliability teachers.
A collaborative team approach to personal development and classroom issues as well as opportunities to train others in the Marzano framework.
A structured emphasis in developing each teacher personally as well as professionally.
A deep understanding of the nature of learning and teaching.
A high-energy culture focused on results, professional and personal development, and fun.
Marzano said that he believes the most rewarding aspect of working at this school will include being part of a school that is dedicated to producing positive academic results as well as improving students cognitive, meta-cognitive and social/emotional well-being. He also said that they will be part of a school that is dedicated to helping teachers grow professionally and personally.
"Being a teacher or administrator at the Marzano Academy will automatically provide those individuals with access to an international network of educators who are like-minded in their dedication to breakthrough schools and personal and professional excellence," said Marzano.
Anyone who is interested in applying for a position at this school should watch for the job announcements as they are posted and then indicate an interest accordingly. It is estimated that a principal and assistant principal will be selected in December and then interviews with teachers will begin in Feb. 2017.