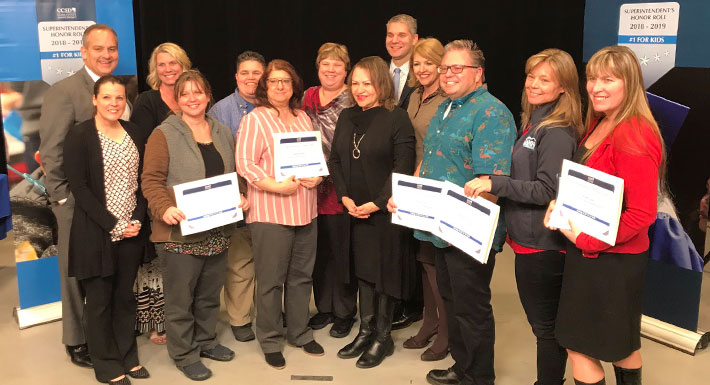 01 Feb

National Board Certified Teachers have honed their craft, are leaders in their schools

A record-breaking number of Clark County School District teachers, who this school year attained National Board Certified Teacher (NBCT) certification, have earned their place on the 2018-19 Superintendent's Honor Roll.

During a Feb. 20 celebration hosted by The Public Education Foundation at Vegas PBS, Superintendent Dr. Jesus F. Jara recognized these teachers for this distinction and outstanding achievement.

National board certification is one of the highest levels of accreditation that a teacher can attain. There were 128 teachers who completed the rigorous, two-year process – the most ever by CCSD and double last year's total of graduates.

CCSD has encouraged teachers to pursue this certification to help them grow personally and as educators, with the ultimate aim of increasing student achievement.

There were only four school districts in the United States with 100 or more newly certified teachers – and CCSD was one of them.

Also, according to statistics released by the National Board for Professional Teaching Standards, CCSD was in another category of distinguished company. Of the 73 schools in the United States that had four or more new National Board Certified Teachers, nine of those schools came from CCSD:

Teachers, principals and the CCSD superintendent spoke during the ceremony about the impact that a National Board Certified Teacher can have on the classroom, school and the school district at large.

Carrie Rey, a fourth-grade teacher at Eileen B. Brookman Elementary School who is a new National Board Certified Teacher, noted that the road to certification was one of the most challenging, yet rewarding, experiences she has ever undertaken.

"By constantly taking time to reflect and evaluate myself, I have learned that there is always room to improve my methods because, as any teacher will tell you, I want to help each and every one of my students succeed," Rey said.

Todd Peterson, principal of Jack and Terry Mannion Middle School, said that having NBCT teachers is a tremendous resource, but that it is relatively new presence on his campus. It wasn't until the 2016-17 school year that the school had its first NBCT teacher. But the following year, six more teachers received certification, giving the school seven NBCT teachers out of 62 licensed teachers – and there is one more teacher in the pipeline for next year.

"As you interact daily with your students and their families, you are very likely to be influencing the career paths for the next generation of teachers and you all know that we need more high-quality teachers," Peterson said.

"Student success is the core of what we do," Dr. Jara told the teachers at the celebration. "The work you have done through the National Board Certification process proves your own personal commitment to student success."

Click here to see the complete list of teachers and their schools. (As a note, some teachers have changed schools after the NBCT process began.)

Previous recipients of the 2018-19 Superintendent's Honor Roll were 62 top-performing schools, which included 5-Star, Shining Stars, and National Blue Ribbon Schools, all representing the best of CCSD.