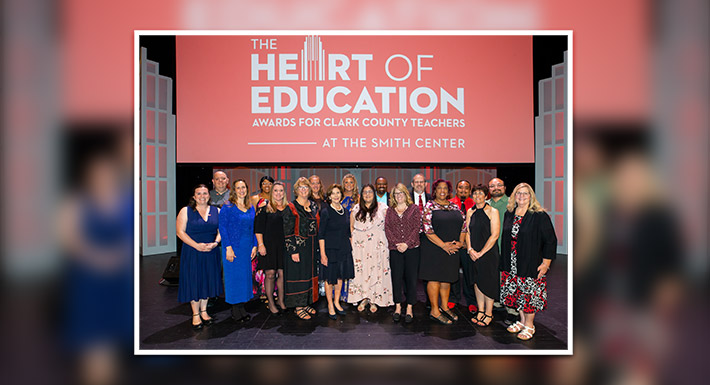 17 Oct

Know an outstanding teacher? Nominations now open for 5th annual Heart of Education Awards

Gayle Miller, a math teacher at Global Community High School, was stunned in April when she found out she was one of 20 winners during the 2019 Heart of Education Awards ceremony at The Smith Center.

"What makes it so special and unforgettable is being among 700-plus educators who are just as deserving of that award," Miller says of all the other finalists from the Clark County School District (CCSD) also honored during the celebration at The Smith Center. "Hearing the incredible stories of what other educators are doing in their schools and classrooms inspires my work today and makes me strive to continue to improve."

For the fifth straight year, The Smith Center and The Rogers Foundation are inviting the community to nominate a great teacher to be considered for The Heart of Education Awards in 2020. Inspired by a program created by the Kennedy Center in Washington D.C., The Heart of Education Awards celebrates outstanding teachers in the CCSD.

Finalists are treated to an exceptional evening of recognition for their outstanding contributions, and 20 teachers will be awarded a commemorative Heart of Education medal, a cash prize of $5,000, and a $1,000 cash gift to benefit a program of their choice at their school. 

"This evening and award are important because so many educators go above and beyond every day," says Miller, who previously taught at Valley High School and at a Catholic school. "This gives parents, students, and community members the chance to recognize someone who is making a difference." 

Miller draws inspiration from other educators, but she also has been a catalyst to motivate other educators. Innovation and hard work by Miller has resulted in dramatic improvements in math skills for her students, most of whom are immigrants and English language learners.

The Heart of Education Awards is a wonderful opportunity for members of the community to share the outstanding accomplishments of teachers – and nominating someone is relatively easy and can be done from the comfort of your computer. Nominations can be made by anyone in the community, including parents, students, principals, and even other teachers.

Nominations may be submitted online via The Heart of Education Awards Web site. The nomination form has a handy guide, which includes tips for nominating a teacher and examples of successful nominations. Nominations are limited to 200 words or less.

Once nominated, teachers will automatically be notified via email and supplied with an electronic link to follow in order to complete the online application. As part of their application, the teachers will be requested to write an essay (500 words or less) that describes how they have gone above and beyond to support students.

Nominations are due by Jan. 17, and then teacher applications are due by Jan. 24, 2020.  A group of community leaders will judge the applications and selected finalists will be invited to a celebration at The Smith Center scheduled for Friday, April 24, 2020. For more information, please visit TheHeartofEducation.org.