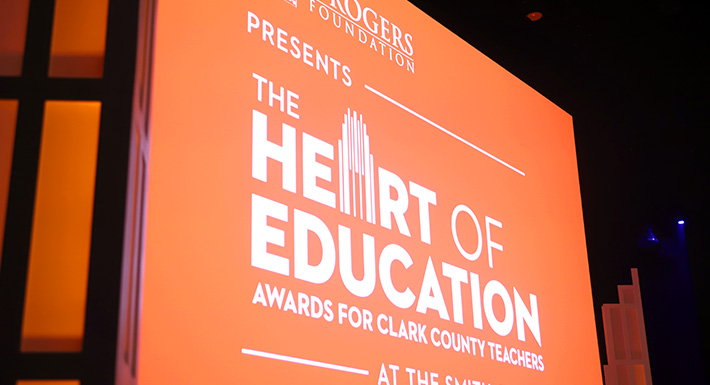 29 Apr

Heart of Education Awards honors some of our best teachers

Congratulations to all the finalists in this year's Heart of Education Awards, presented by The Smith Center for the Performing Arts and The Rogers Foundation.

Thousands of teachers received nominations from parents, students, alumni, PTA, administrators and the public.

Nominated teachers then completed applications that were judged by a group of community leaders who selected 721 finalists. Twenty of the finalists were named as this year's Heart of Education award winners, and each received a $5,000 prize, a special award, plus $1,000 for a program of choice at their schools.

The 20 Heart of Education Award winners achieving this distinction are:  
Cassandra Arquette, Ed

W. Clark High School

Ramiro Benavides, Mario C. and JoAnne

Monaco

Middle School

Jennifer Dantuono-Adams, Bob Miller Middle School

Jill DeStefano, C.C. Ronnow Elementary School

Jose Garcia, Ed Von Tobel Middle School

Jennifer Hampton, John A. Dooley Elementary School

Lori Hargrow, Duane D. Keller Middle School

Jennifer Hemme, Green Valley High School

December James, Jesse D. Scott Elementary School

Andrea Jydstrup-McKinney, West Career and Technical Academy

Richard Knoeppel,

Advanced Technologies Academy

Rhonda Lamboo, Fay Herron Elementary School

Brian Lowery, Jack and Terry Mannion Middle School

Anna Mendez, Crestwood Elementary School

Gayle Miller, Global Community High School

Heather Rampton, K.O. Knudson Middle School

Lamont Russell, Liberty High School

Amy Sequeira,

Mervin Iverson Elementary School

Lynn Slane, Robert L. Taylor Elementary School

Melanie Wilkerson,

Spring Valley High School
The finalists were honored during a special evening at The Smith Center on April 26, with appearances/performances by former First Lady Laura Bush, Superintendent Dr. Jesus F. Jara, Erich Bergen (emcee), George Wallace and Vegas Golden Knights President Kerry Bubolz.
Special thanks to The Rogers Foundation and The Smith Center for the Performing Arts for creating this program to honor teachers in the Clark County School District!