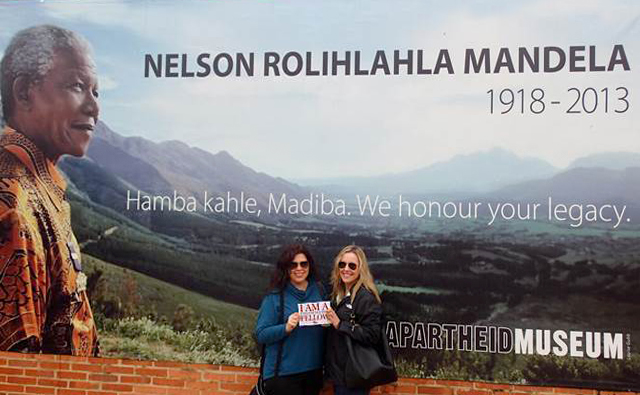 31 Aug

Geography goes far beyond maps for Silvestri Junior High School teachers

One thing you can say about Charles Silvestri Junior High School (JHS) world geography teachers Caprice Leidig and Kimberly Caipa is that they always keep their passports up to date, and for good reason. They both travel extensively, especially during the last couple years.

The two long-time colleagues and friends have visited Peru and South Africa together, and made separate study tours to Turkey. These educational excursions were funded by outside sources, such as the Turkish Cultural Foundation and Fund for Teachers.

Leidig is in her 16th year at Silvestri JHS. Originally from Vermont, she has been with the Clark County School District (CCSD) a total of 18 years. Caipa, a Texas native who has spent most of her life in Las Vegas, is a 15-year CCSD veteran. Each of them teaches more than 180 eighth-grade students.

Leidig and Caipa say their travels give them a solid understanding of a particular region's geography, history and culture. "The goal," said Caipa, "is for us to share these experiences with our students, inspiring them to explore and give back to our world."

The South Africa "Fund for Teachers" Fellowship in June gave the two teachers the rare opportunity to walk in the footsteps of South African civil rights leader Nelson Mandela. Highlights included a tour of the Apartheid Museum in Johannesburg and a visit to Mandela's home in the township of Soweto.

Leidig said, "It was very life-changing to follow the footsteps of Mandela, see where he was imprisoned for many years and to see the home where he lived after he left prison." She said, "Walking through the Apartheid Museum opened my eyes to the vastness of this struggle and the amazing things Mandela did for South Africa."

The Peru trip in April was a bit different in that it was more of a philanthropic excursion. The main purpose was to deliver school supplies to children in remote, economically depressed villages along the Amazon River. The teachers worked with CONAPAC's Amazon Adopt-A-School program, traveling more than 100 miles on the Amazon, an experience Caipa described as "extremely exciting and definitely challenging."

Leidig said, "Geography is so much more than being able to point out a country on a map." Caipa agreed, saying, "We live in a global society. Especially with the Internet, it doesn't matter what field you're going into, you are going to be in contact with people from all over the world, so you want to know how to put things in a global perspective."

So, what ís the next exotic destination for these two junior high school teachers? They're not sure. But you can bet their suitcases will be packed and their passports will be ready to go.