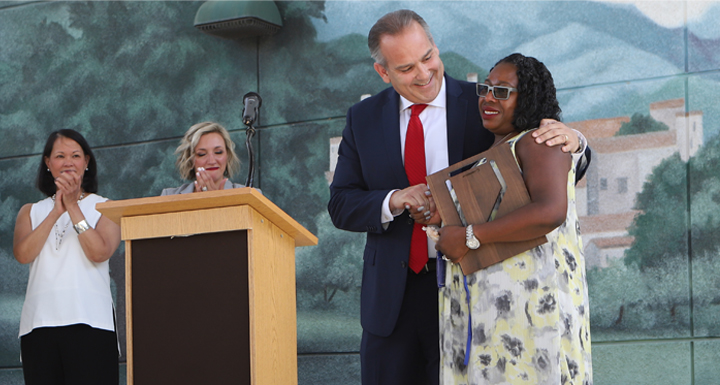 26 Aug

Gail Hudson of Hummel ES named Nevada's Teacher of the Year

Gail Hudson of John R. Hummel Elementary School was honored in a surprise ceremony on Aug. 26 for being named the 2020 Nevada Teacher of the Year. Hudson immigrated from Belize and has been an educator for 32 years.

Hudson serves as Hummel Elementary's Equity and Diversity Site Liaison and Title I Site Coordinator. She has been involved with the implementation of the school's Title I Plan, School Improvement Plan, Staff Development Days, Data Analysis, and Test Coordination. Hudson is nationally board certified and is rated as a highly effective teacher by the State of Nevada.

"Mrs. Hudson is an exceptional teacher and an inspiration to those at Hummel Elementary and everyone in our school district," said Dr. Jesus F. Jara, Clark County School District superintendent. "We are beyond proud to have her leadership and expertise in our classrooms."

Pictured, from left to right, are Nevada Department of Education State Superintendent Jhone Ebert, Senate Majority Leader Nicole J. Cannizzaro, CCSD Superintendent Dr. Jesus F. Jara and 2020 Nevada Teacher of the Year Gail Hudson.