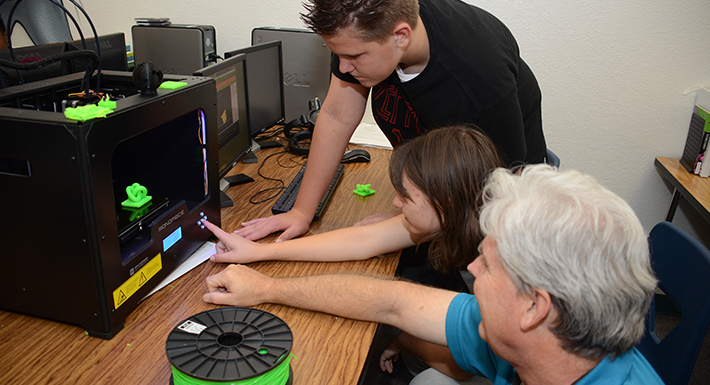 26 Oct

Full steam ahead to expand technology offerings

Technology is ubiquitous. It crosses between age groups and connects people around the globe. Incorporating technology into curriculum as early as possible has been a rapid-growing concept around the nation and is one of Clark County School District's goals outlined in its Pledge of Achievement.

To push traditional methods further into the future, Charles Silvestri Junior High School bought a 3-D printer last spring thanks to a grant won by its librarian, Julie Curi. Silvestri's Science, Technology, Engineering, Arts and Mathematics (STEAM) module utilizes it for a class centered on the rising popularity of 3-D printing.

"I chose to use the grant toward a 3-D printer to incorporate engineering and advanced science concepts that can be practiced," said Curi. "We wanted the students to be able to start creating and engineering products from their ideas, and to learn how to become self-directed in completing tasks. So far, the students have created plastic gears and screws for other projects as well as arches for architectural projects."

STEAM is an elective seventh, eighth and some sixth graders can enroll in at Silvestri Junior High School. While the STEAM topic changes every year, the idea remains the same: encourage early adopters to participate in the ever-evolving landscape of technology.

"The students are excited about the 3-D printer," said Assistant Principal Erik Skramstad. "All students have access to the software to work on projects at home, then upload or email their work at school to print them."

The notion that students can develop an idea and be able to manufacture it the next day in class proves that technology can change education quickly. To be able to catch up with the advancements in technology and ensure all students are able to participate in the advancements, CCSD expanded its Magnet program to seven schools this year and will expand it to four schools next school year.

A bridge in STEAM curriculum between feeder middle schools and their high school counterparts is also in development for CCSD. For students to pick up STEAM topics in high school where they left off in middle school allows for greater information absorption.

"The future of STEAM in CCSD is taking what we traditionally think is just arts and showing how technology can augment it," said Jeanne Donadio, director of career and technical education. "We are going to expand our STEM program with coding so all students have access to learning computer science and we are reaching out to all Magnet schools that are normally arts-centered to incorporate STEM into their arts program. We all use technology every single day."

For Silvestri Junior High School students, 3-D printing is one just one of many  steps in achieving greater things.