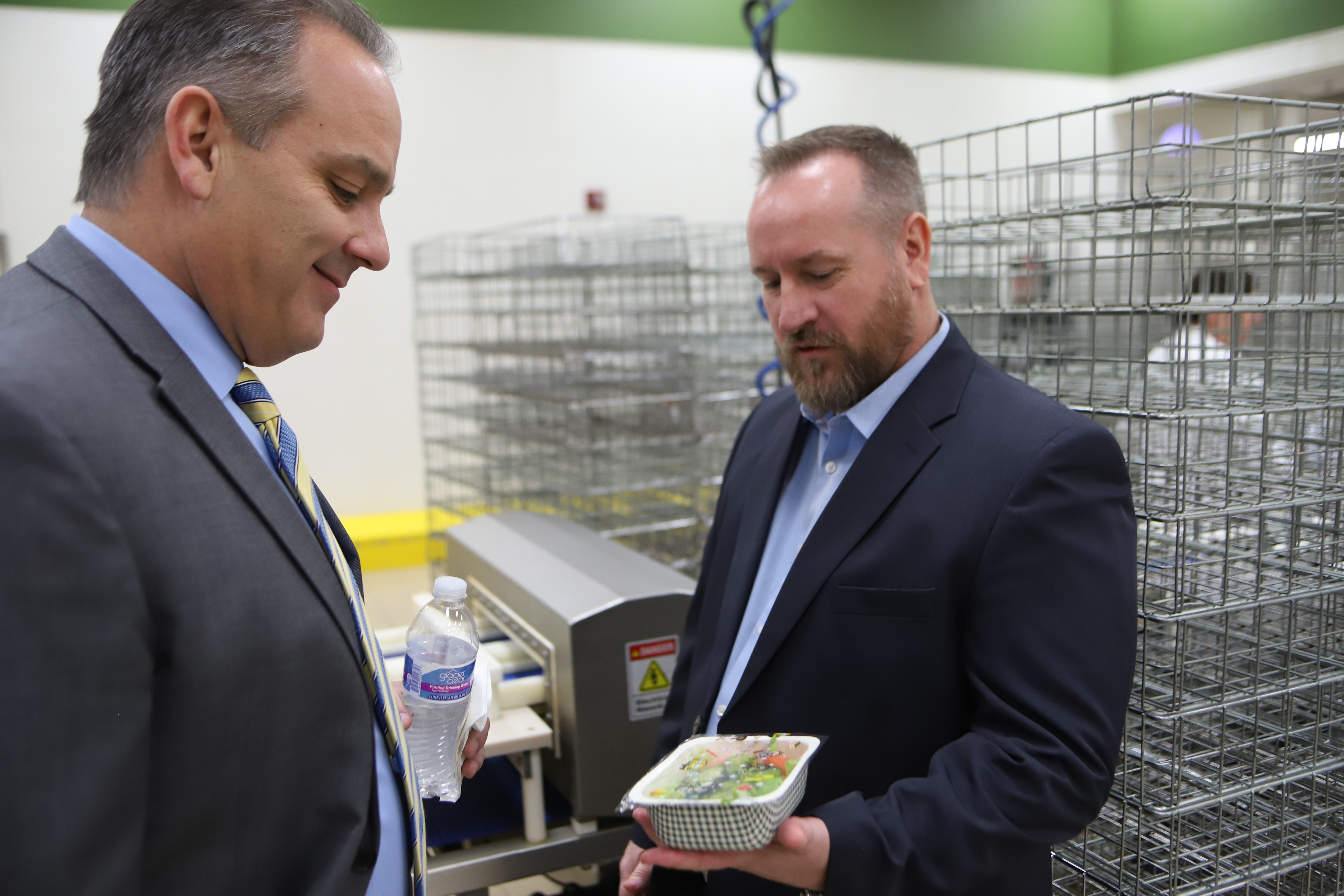 10 Aug

Five Questions with … David Wines

As the new school year opened with 100 percent distance education, most of the public's attention was on getting Chromebooks and other devices into the hands of children and getting them internet connection. But another essential consideration was ensuring that 320,000 students have access to nutritious meals every day when school is in session. We recently connected with David Wines, director of CCSD's Food Service Department, to discuss nutrition and the responsibility of running what is the largest restaurant in Nevada.

Last school year, CCSD was serving about 275,000 meals a day before COVID-19. Walk us through the challenges your team faced pre-COVID to what they are today as your team keeps children fed during distance education?

Pre-COVID, our department's normal, everyday operations primarily included: 
Solidifying adequate labor for the upcoming school year to prepare (food service workers), assemble (central kitchen), and deliver (warehouse and distribution) meals to schools,

Menu planning to ensure school menus are robust and provide enough options and variety for all students, and

Feedback/surveys to assist in improving our operations. 
As the pandemic hit the District and the decision was made to close the schools, we were faced with additional challenges, such as:
Assessing how to feed students while keeping our employees healthy and safe during the process,

Creating nutritious menus for on-the-go meals,

Determining how many locations to open in order to service the community, and

Accurately forecasting the supplies that would be needed, and restructuring the menu to ensure we had enough food to feed all the students.
During distance education, what went into your thinking/planning as to how your team would overcome some of the biggest barriers to children getting meals?
Our thought process was to continue feeding the students in the same manner as we had been before the school closure, but to increase the number of distribution sites so we could have a bigger footprint and reach more students that depend on meals provided by the District day in and day out.
Doing all the above while keeping our employees, students, and parents as safe as possible.
Food insecurity is a major issue in Southern Nevada. Tell us why publicly funded programs that assist CCSD in its food distribution and nonprofit organization are important to alleviating this problem?
In the beginning of March 2020 the District had implemented free breakfast to all enrolled students so they can start their academic day with a nutritionally balanced meal.  Students who begin their day with a healthy morning meal exhibit improved cognitive function, are more attentive, and have better memory recall, and as a District we felt it was important to ensure all students have access to a healthy breakfast. 
Pre-COVID food insecurity (being without reliable access to a sufficient quantity of affordable, nutritious food) was 12.9% in Las Vegas and has risen to 20.4% during the pandemic.  During the school closure we were able to operate under the USDA's federally funded Summer Food Service Program (SFSP) where any child aged 2-18 was able to come to a distribution site and get breakfast and lunch – all meals were free and there were no eligibility requirements.  This flexibility provided a much-needed resource to the community at large during these uncertain times.  
What tips/advice do the CCSD nutritionists have for parents when it comes to providing nutritious meals for their children – especially when it appears many adults aren't eating as well as they should as they cope with the stress from COVID?
Eating a variety of foods keeps our meals interesting and flavorful. It's also the key to a healthy and balanced diet because each food will have a unique mix of nutrients needed for adequate health. Consuming a balanced diet can counterbalance the impact of stress by strengthening the immune system, stabilizing moods, and reducing blood pressure.
Along with filling half your plate with colorful vegetables and fruits (and choosing them as snacks), split the other half of your plate between whole grains and healthy protein.  

Eat plenty of fruits and vegetables of all colors.

Choose whole and sliced fruits/veggies when you can to help increase fiber intake.

Eat 100% whole grains —whole wheat, brown rice, quinoa, and foods made with them, such as whole-grain pasta and 100% whole-wheat bread. These types of foods have a gentler effect on blood sugar and insulin than white rice, bread, pizza crust, pasta, and other refined carbohydrates.

Choose poultry, fish, and eggs for some healthy protein options.

Go meatless one night a week and include foods such as beans, peas, soy, nuts, or seeds into your dishes as a plant-based protein.

Choose unflavored milk, regular or Greek yogurt, small amounts of cheese, and other unsweetened or lightly sweetened dairy foods. Milk and other dairy products are a convenient source of calcium and vitamin D.

Water is the best choice for quenching our thirst. Try adding slices of cucumber and mint to your water for a refreshing flavor or pineapple and orange for a hint of sweetness!

It is important for kids to stay active. Children and adolescents should aim for at least one hour of physical activity per day. Encourage fun, physical activities to take a break from the computer, like riding a bike, and find ways for the whole family to join in!
What is the most rewarding part of the work you do? 
It's rewarding to know that our team plays a pivotal role in our students' success on a daily basis by providing them with nutritious meals. Last month we celebrated the milestone of serving five million meals since schools closed in March. I'm proud of the hard work and dedication exhibited by all of our team members day in and day out.
More information about meal distribution, including answers to frequently asked questions, can be found by clicking on Food Service, which is located at reconnect.ccsd.net.  
Menus are available at ccsd.nutrislice.com.