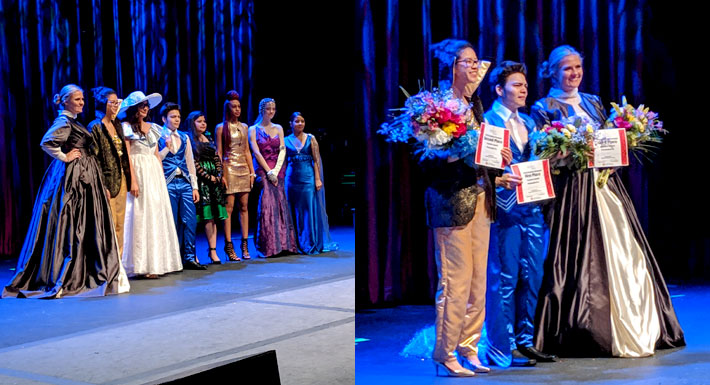 02 May

Fashion Forward 2019 – Rancho Fashion Students Shine

Rancho High School Fashion III and Fashion AS students participated in the final round of the Junior League of Las Vegas Fashion Forward Competition at Brooklyn Bowl. Students worked all year to produce and show garments fitting this year's theme, "Hollywood Leading Ladies." At the end of the fashion show, the judges identified the top eight designs from the 63 participants; three of those top spots were awarded to Rancho students.

Leslie was awarded "Best Use of Fabric" and Valyncia was awarded "Best Interpretation of Theme" for her Halle Berry design. The biggest award of the year went to Moises Bravo for his four piece suit inspired by Diana Ross.  Moises' prize package included a cash award, an internship through the Cosmopolitan, a trip to New York City to tour fashion houses, and a sewing machine.

Fashion Forward is a unique design challenge for Clark County high school students, patterned after the popular TV show, Project Runway. Fashion Forward aims to enhance the education of local design and fashion students and gives aspiring designers the opportunity to showcase their designs in a public setting.

Thank you to Ms. Burns and all of our community partners for helping our students shine in this competition. Be sure to check out all of the finalists' designs at a lunch time fashion show taking place at Rancho High School on Friday, May 10th.