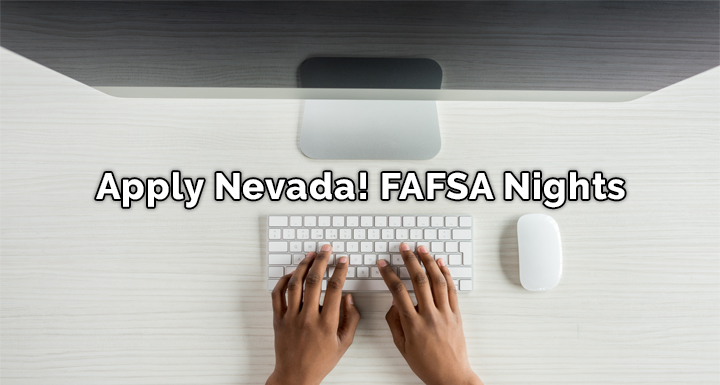 09 Sep

Information about Free Application for Federal Student Aid (FAFSA)

Clark County School District high school seniors and juniors are encouraged to learn more about the Free Application for Federal Student Aid (FAFSA). There is no cost to students or their families to complete the application.

Even if you are not sure about attending college, students are encouraged to complete a FAFSA just in case there may be a need for possible financial assistance consideration for college.

Attend one or more of our Fall 2020 Apply Nevada! FAFSA Nights and be prepared to complete your FAFSA.

These events will all be held virtually via Webex. You will hear about general financial aid information and then each of the NSHE colleges and universities will describe scholarship and funding information specific to their institution.

All programs will start promptly at 6:00 pm. Registration is required. Links are located on the homepage, apply.nevada.edu.
College-bound seniors and juniors are the target audience as they begin writing their admissions/scholarship essays
The Story2 platform is designed around teaching students how to tell their own stories to stand out from the crowd
This bootcamp is being offered for FREE to 500 students
At the end of the bootcamp, participants will complete the first draft of their personal statement essays!
Most families can complete a FAFSA in under an hour. The FAFSA is available online at fafsa.gov.
Additional resources in regards to the FAFSA:
Why Should I complete the FAFSA
Khan Academy – FAFSA Walkthrough