19 Jan

emocha Health Employee Information

Required Daily Symptom Monitoring Through emocha HealthAll staff are required to participate in daily symptom monitoring through emocha Health as one of Clark County School District's (CCSD) mitigation strategies against the spread of COVID-19. emocha Health is HIPAA-compliant, meaning the data is secure and is not shared with anyone outside of CCSD. This daily recording of symptom monitoring is required to be completed through the secure emocha Health application or Web portal, which enables employees to conduct a self-screening of symptoms each day at the start of the work day. Staff are required to follow their supervisor's procedures for calling in if they are not able to report to their duty. Staff who are symptomatic are directed to call the Employee Health Department at (702) 799-0298.

At the start of each work day, staff will record if they have any symptoms or none, along with the opportunity to select to input their temperature reading (temperature is not required). Staff will receive a color-coded digital badge of purple or green for approved entry to CCSD sites. If a staff member receives a yellow badge, they must contact (702) 799-0298 and their supervisor.

Staff may log in via emocha Health Mobile App Employee Guide or use a designated desktop computer at the entry of the school/District facility (emocha Health Desktop Employee Guide) to input information and receive a digital badge. 

Welcome Back – Signing into Emocha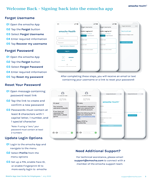 If a staff member communicates with their supervisor that they are symptomatic, exposed, or confirmed positive for COVID-19, the supervisor must direct the employee to contact the Employee Health Department at (702) 799-0298. 
Staff who begin employment with CCSD after July 27, 2022, should expect to receive a welcome email message and initial login link from emocha Health no later than the Tuesday of the week following their start date. If staff receive a welcome message and continue having issues logging in, please email support@emocha.com.
New staff are required to fill out the CCSD Visitor Questionnaire and Acknowledgement every day upon arrival to work until obtaining access to an emocha digital badge.
Refusal to comply with required daily symptom monitoring may result in progressive discipline. 
Contact Information
For questions or concerns directly related to the app, please email helpdesk@emocha.com at any time.
For specific CCSD information, please contact Jennifer Budzinski, nurse director at (702) 799-1665 or budzijl@nv.ccsd.net, or Diane Lewis, executive director, Health Services and Inclusive Schools at (702) 799-0812 or lewisdm@nv.ccsd.net.