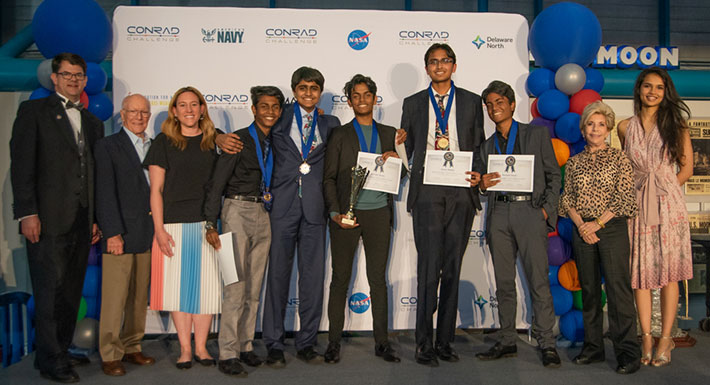 03 May

Clark High School students earn top honors at national innovation summit for their work to prevent vaping

Students at Ed W. Clark High School were recognized as Pete Conrad Scholars, the top award in The Conrad Challenge, a multi-phase STEM and entrepreneurship competition inspired by the legacy of Apollo 12 astronaut Pete Conrad.

Michele Hernandez's student team–Jaiden Reddy, Deven Reddy, Shivam Saran, Rishi Saran and Tanush Saranwere–were named Pete Conrad Scholars in the Smoke-Free World: United States category at The Conrad Challenge Innovation Summit last week at Kennedy Space Center on April 23-26.

The student team created VapeMate, a mobile application that can track, quantify, substantiate, and prevent vaping through an attachment that fits right onto an e-cigarette and a mobile application that records, processes, and displays data on e-cigarette use for the user.

The VapeMate team received an all-expense paid trip to Catania, Italy to meet a Foundation for a Smoke-Free World grantee who is researching tobacco harm reduction.

For more information about the Challenge and Summit, click here.

The Las Vegas Sun highlighted the outstanding work of the Clark High School students and their invention, VapeMate.