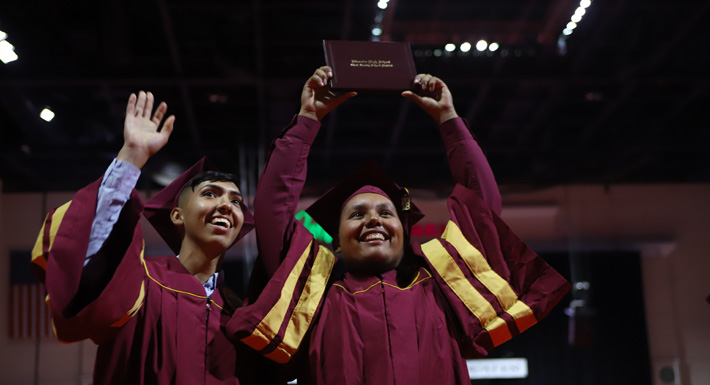 18 Dec

CCSD's Class of 2018 sets graduation-rate record

The Clark County School District's final graduation rate for the Class of 2018 is a record high 85.22 percent, an increase of 2 percentage points over the previous year, according to final data compiled by the Nevada Department of Education.

"This is a huge achievement by all teachers, support professionals and administrators from elementary to high school who have worked together to make CCSD #1 For Kids," said Superintendent Dr. Jesus F. Jara. "While we celebrate this success of increasing the rate by 2 percentage points in one year, we are focusing all of our efforts to ensure all kids graduate ready for college and career."

CCSD continues to make progress in improving its graduation rate. During the past eight years, the graduation rate has increased from 59.34 percent in 2011 to 85.22 percent in 2018. The increase in the graduation rate is also reflected in the number of graduates, as the Class of 2018 was CCSD's largest ever, with 21,102 graduates.

School staff continuously work to ensure that all students have a rich and rigorous educational experience. For several years, school staff have provided each student with an individualized graduation plan. This has helped us better track our students and use strategies and interventions based on each student's need, such as summer school opportunities and determining when students transfer successfully.

"Yet again, CCSD has set an all-time high graduation rate and that is cause for celebration," said CCSD Board of School Trustees President Deanna L. Wright. "I am so proud of the extraordinary work happening in our schools daily, and the graduation rate is evidence of the hard work and dedication of all educators throughout CCSD."

Twelve CCSD high schools posted a graduation rate over 98 percent, with nine achieving a 100 percent graduation rate, and they include:
Advanced Technologies Academy
College of Southern Nevada East
College of Southern Nevada South
College of Southern Nevada West
Las Vegas Academy of the Arts
East Career and Technical Academy
Northwest Career and Technical Academy
Southeast Career and Technical Academy
Southwest Career and Technical Academy
Veterans Tribute Career and Technical Academy
West Career and Technical Academy
West Preparatory Institute School for Academic Excellence at
Charles I. West
Additionally, 11 schools posted year-over-year gains in a graduation rate of five percent or greater including:
Burk Horizon / Southwest Sunset High School
Bonanza High School
Chaparral High School
Cowan Sunset Southeast High School
Desert Oasis High School
Desert Pines High School
Desert Rose High School
Global Community High School at Morris Hall
Morris Sunset East High School
Nevada Learning Academy at CCSD
Spring Valley High School
CCSD also continues to make gains in nearly all ethnic subgroups.
Also noteworthy news to report:
The Class of 2018 boasts 701 Advanced Placement (AP) scholars, including 2015 AP scholars with honors, 424 AP scholars with distinction, 87 national AP scholars, and two international AP scholars
The Class of 2018 was awarded over $219 million in merit/aid scholarships and over $95 million in Millennium Scholarships.