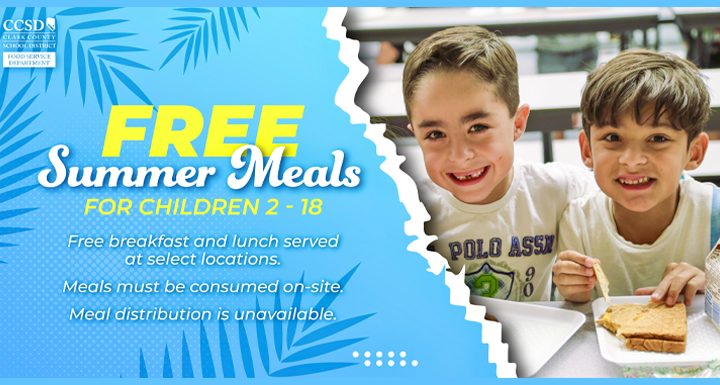 25 May

CCSD to offer school meals during summer break Summer Food Service Program 2022

School sites that are providing summer instruction (Summer Acceleration, Extended School Year and Secondary Summer School) will offer free breakfast and lunch to any child 2 – 18 years of age on days that there is academic instruction occurring on-site at the school.  

 Meal service will be limited or not be available on the following date:
No meal service will be provided July 4, 2022 in observance of the 4th of July holiday.
From June 23, 2022 until July 19, 2022 – Approximately 50 food sites will be open while Extended School Year and Secondary Summer School sites provide academic instruction. 
CCSD schools are operating under the Summer Food Service Program (SFSP) allowing meals to be available to students and, by federal requirement, any non-enrolled children seeking meals at open SFSP sites. In order to follow USDA guidelines, meals must be consumed onsite and drive-thru meal distribution is unavailable. 
For your convenience, visit ccsd.nutrislice.com to view a list of sites that are open with dates and times on the day that you plan to visit a Summer Food Service Program site.