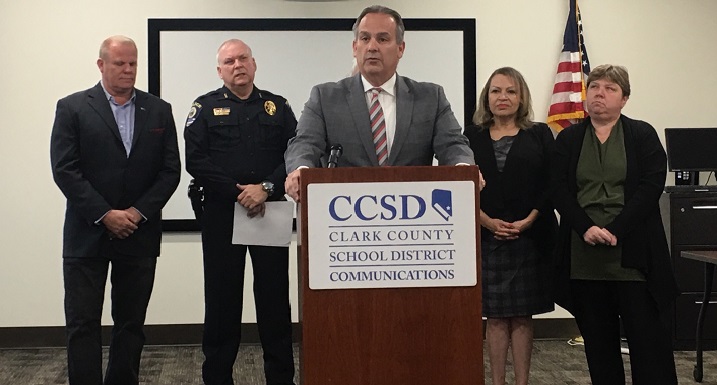 01 Oct

CCSD to conduct random searches at middle and high schools to discourage weapons on campus

Last week the Clark County School District (CCSD) announced a new program to conduct random searches of students at middle and high schools to discourage weapons on campus.

"I promised this community several weeks ago that I would take action, and this is one step we can take to ensure our students will be more safe tomorrow than they are today," CCSD Superintendent Dr. Jesus F. Jara said at an Oct. 19 news conference. "No school system can fix a problem that exists nationally. It requires the attention of our entire community."

The program is set to start in the next two weeks after training of school-based staff is complete. CCSD will publish written procedures prior to implementation of the program.

The program will consist of school administrators conducting random searches of students using handheld metal detectors. These searches will occur as students first enter the campus, as well as while they are in their classrooms. This is a strategy that many other school districts around the country have employed to improve student safety.

In order to ensure that the searches are random, a computer program will choose the schools, classrooms, and students to be searched. This is key not only to prevent profiling, but also so that students know that at any given time they might be searched. This will serve as a disincentive for students to bring a weapon on campus.

To view Frequently Asked Questions, click here.