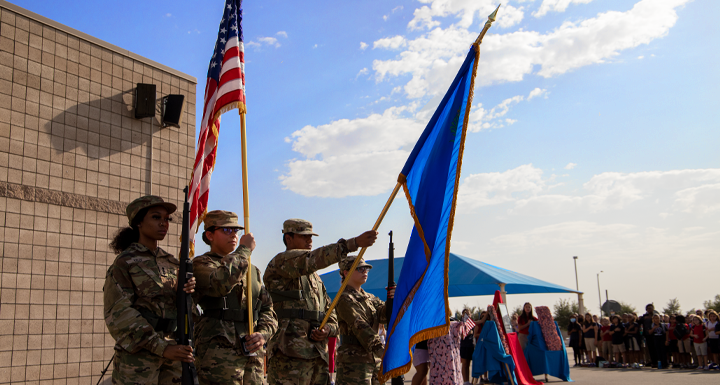 09 Sep

CCSD schools honor the victims of 9/11

Clark County School District (CCSD) schools held events on Friday, September 9, 2022 to commemorate the victims and those who lost their lives in the September 11, 2001 attacks.

Principal Murray, students, and staff at Neal Steam Academy held a 9/11 remembrance ceremony on the 21st anniversary. Cheyenne High School's JROTC Color Guard  presented the colors (pictured).

Palo Verde High School's Air Force JROTC, choir, administrators and staff also held its annual rededication ceremony in remembrance of the victims, including the school's foreign language teacher Barbara Edwards, with a new flag on their Barbara Edwards Memorial. Edwards was a passenger on American Airlines Flight 77, which crashed into the Pentagon on 9/11.

The Valley High School JROTC department raised the National Colors and presented a wreath to pay respect to the victims and honor the sacrifices of service members, first responders and family members.