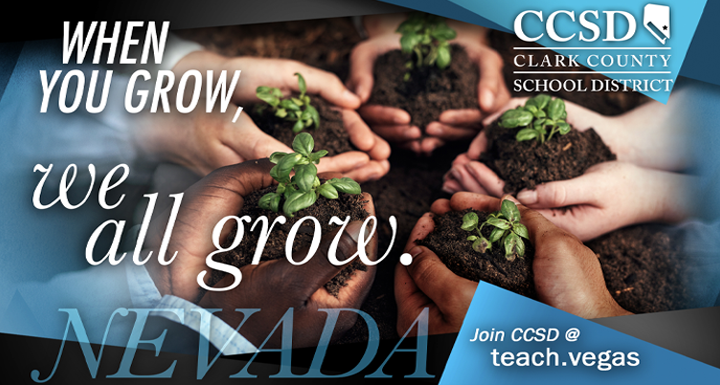 15 Jul

CCSD recruitment efforts focused on talented individuals and "growing" current employees

The Clark County School District (CCSD) has kicked off a new hiring campaign – "When You Grow, We All Grow" – focused on hiring diverse, talented individuals committed to the success of every student. Additionally, the initiative promotes opportunities for current CCSD employees to grow in their careers and become teachers.

"We value our staff and their dedication to delivering excellence in education for our students," said CCSD Superintendent Dr. Jesus F. Jara. "As our staff commits to our mission and vision, we will provide upward career mobility opportunities through 'When we Grow, We all Grow' by recognizing the vital role our staff plays in successful student outcomes and supporting them accordingly."

Growing Our Own – advancement opportunities for current CCSD staff

The District understands the value of providing upward mobility and opportunities for growth to those who currently serve our District and students each day. 

CCSD has worked to create pathways so current employees can continue serving students while developing and pursuing their passions for education. CCSD is committed to the growth of our employees, the growth of students and the growth of the community as a whole.

In partnership with the University of Nevada, Las Vegas (UNLV) Education Department, the District has developed two pathways to become a CCSD teacher: a Paraprofessionals Pathway Program to support our current Support Professionals; and the Accelerated Alternative Route to Licensure Program to assist those with a bachelor's degree.  

Growing Our Own – teaching pathways for current CCSD students

The District is also looking further down the road and has developed pathways for our students to discover their love for teaching. Students can enroll in the Teaching and Training Career and Technical Education (CTE) Program to begin their pathway to becoming a CCSD teacher while completing their high school diploma. 

CCSD currently has 30 high schools that offer teaching programs with more than 4,000 students enrolled in teaching and training classes.

When You Grow, We All Grow – recruiting from within the community 

The District is always seeking licensed teachers for the critical needs areas of math, science, special education and elementary education. In addition, the District is also seeking prospective employees who have a bachelor's degree in another area, and

these individuals will have an opportunity to become a licensed teacher through the Accelerated Licensure Teacher Academy (ALTA).

CCSD also provides flexible scheduling for those seeking substitute teacher positions.

The State of Nevada now allows for individuals with a high school diploma to become substitute teachers if they go through the proper training process and get a substitute license from the state.

Anyone who is interested in learning more about all of CCSD's opportunities can visit teach.vegas or contact CCSD's Human Resources Division by calling 702-799-5427.

The District also continues to hire year-round for a number of opportunities in licensed and support professional positions, which include teaching assistants, substitute teachers, bus drivers and food service employees. Those interested in new career opportunities with CCSD should visit teach.vegas.

To learn more about the Clark County School District, visit ccsd.net.