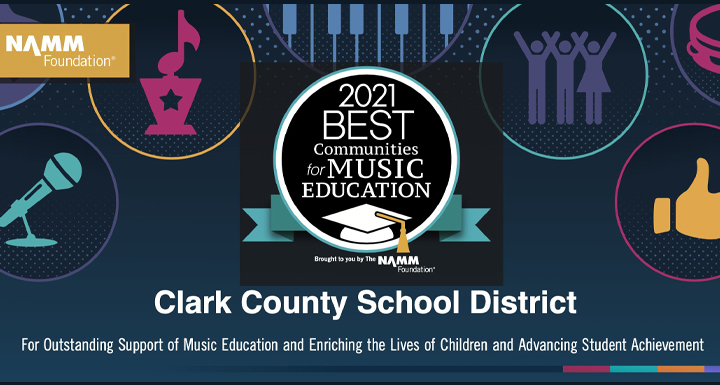 08 Apr

CCSD recognized as one of "2021 Best Communities for Music Education" for 22nd year in a row

For the 22nd consecutive year, the Clark County School District (CCSD) Music Education Program has been honored with the Best Communities for Music Education designation from the National Association of Music Merchants (NAMM).

"CCSD is extremely proud to yet again be named a top school district for music education," said CCSD Superintendent Dr. Jesus F. Jara. "The performing arts are an integral part of our students' education and I would like to thank our educators for their tireless efforts in providing our students with exceptional music education despite working through a global pandemic."

Now in its 22nd year, the Best Communities for Music Education designation is awarded to districts that demonstrate outstanding achievement in efforts to provide music access and education to all students.

"We are only one of a few school districts nationwide that have received this prestigious distinction for 22 consecutive years," said CCSD Director of Humanities Shannon La Neve. "The support and dedication of the Board of School Trustees, Superintendent Dr. Jesus F. Jara, teachers, support professionals and administrators in CCSD's music education program continue to provide students with an invaluable appreciation for the arts."

Districts that have been recognized by the NAMM are often models for other educators looking to boost their own music education programs. To qualify for the Best Communities designation, CCSD answered detailed questions about funding, graduation requirements, music class participation, instruction time, facilities, support for the music program and community music-making programs. Responses were verified with school officials and reviewed by the Music Research Institute at the University of Kansas. CCSD joins 685 other districts across the country in receiving this prestigious award in 2021.

For more information about CCSD, visit ccsd.net.