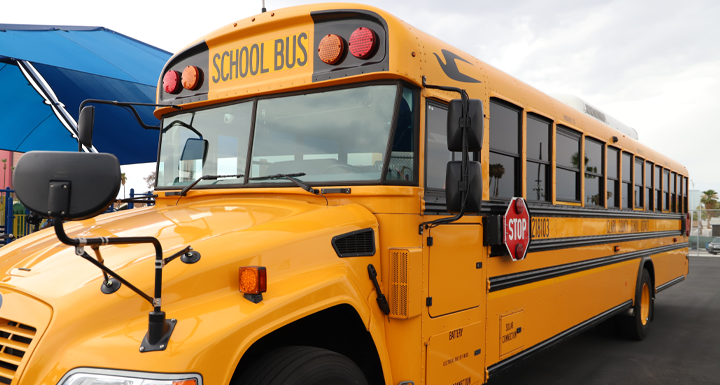 23 Oct

CCSD receives $9.8 million through EPA's Clean School Bus Program

The Clark County School District (CCSD) has been awarded more than $9 million from the U.S. Environmental Protection Agency's (EPA) Clean School Bus Program to purchase new electric buses and infrastructure.

"Funding from the EPA's new Clean School Bus Program will enable CCSD to replace existing school buses with zero-emission and low-emission models," said Superintendent Jesus F. Jara. "CCSD will adopt these cutting-edge transportation technologies to benefit our southern Nevada community by reducing emissions, improving air quality, and reducing environmental impacts. Thanks to Senator Cortez Masto and our federal delegation's leadership on the Bipartisan Infrastructure Law, which provides the funding for these buses to transport our students and reduce environmental impacts."

The EPA Clean School Bus Program application was the joint effort of CCSD's Department of Transportation, and Sustainability, Energy, and Environmental Services Department. CCSD was awarded the maximum amount of $9.875 million. This funding includes $9.375 million for 25 new electric buses and $500,000 for eligible charging infrastructure. These electric buses will replace 25 buses purchased in 2010 and 2011.

According to the EPA, the Clean School Bus Program will phase out diesel engines and ensure cleaner air for students, bus drivers, and school staff working near the bus loading areas and the communities through which the buses drive each day.

Nationally, the grants will help school districts purchase over 2,400 clean school buses that will accelerate the transition to zero-emission vehicles and produce cleaner air in and around schools and communities, according to the EPA.

The acceptance of the grant funds will go before the CCSD Board of School Trustees for approval at a public board meeting.

To learn more about the #CleanSchoolBus program, visit epa.gov/cleanschoolbus.

To learn more about the District, visit ccsd.net.