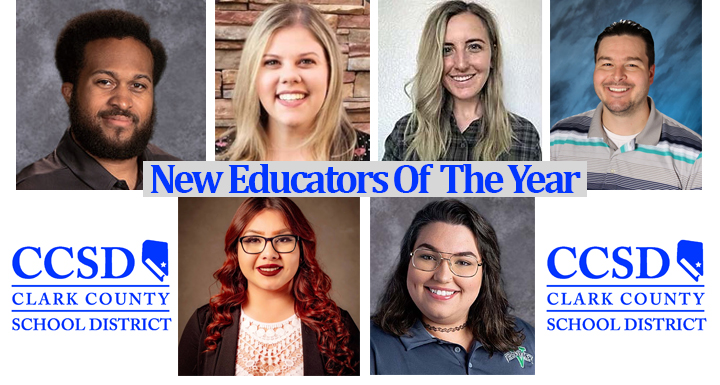 11 May

CCSD honors six New Educators of the Year

As part of its celebration of Teacher Appreciation Week, the Clark County School District (CCSD) virtually surprised six first-year teachers the week of May 4-8 with virtual presentations, announcing that they had been selected as New Educators of the Year (NEOY).  The teachers were not aware of their selection until a group of presenters, which included Board of School Trustees, representatives from the school and the district's Human Resources Division conducted surprise virtual presentations while the schools' weekly staff meeting took place. 

The employees are honored in the following six categories: elementary (PK-2), elementary (3-5), middle school, high school, special education and specialists. The winners will receive gifts from community partners and will have their headshots on display at the Edward A. Greer Education Center for the next year

Below are this year's recipients:

Alejandra Linares Sierra – Second-grader teacher at Long Elementary School. Linares Sierra is the NEOY winner for the Elementary (PK-2) category. Linares Sierra's positive energy fills her classroom and her students genuinely know they are cared for. She is committed to communication with all her student's parents and involves them in their children's education. Linares Sierra is committed to communication with all her student's parents and involves them in their children's education. She is a product of CCSD and a graduate of Nevada State College. 

Ellie Edgar – Third-grade teacher at Elementary School. Edgar is the NEOY winner for the Elementary (3-5) category. Edgar completed an ARL program through UNLV – previously worked with primates and other animals. Her classroom is a well organized (calm & inviting) environment that is led by a strong leader who very obviously loves her students. Edgar keeps them engaged using QTEL tasks and strategies she's learned through ALCA-M sessions. She volunteers at many school functions and extra-curricular activities.

Emily Anderson – Math teacher at Cashman Middle School. Anderson is the NEOY winner for the Middle School category. Anderson excels in designing curriculum and quickly became a leader in the Math department. She has inspired the members of her department to try new methods and venture outside their comfort zones to utilize new techniques. She has been nominated as the Math Department Chair for 2020-21. Anderson completed CCSD's ALTA Program. 

Kenneth Brown II – English/African American Studies teacher at Sierra Vista High School. Brown is the NEOY winner for the High School category.  Brown has shown his students that nothing comes without hard work, that stereotypes are meant to be destroyed, and that success knows no color. The entire Sierra Vista High School community has benefited from Brown's presence. He is a graduate of Rancho HS and UNLV (Film Studies) and is currently completing a Masters Degree through UNLV's ARL Program. 

Brian Milburn – Intermediate Autism teacher at Tobler Elementary School. Milburn is the NEOY winner for the Special Education category. He is a passionate elementary autism teacher who brings joy into every room he enters. Milburn enjoys hiking, playing video games and watch his favorite teams, the LV Golden Knights and the San Francisco Giants. He is a Graduate of Grand Canyon University. 

Brittany Wagner – Band teacher at Virgin Valley High School. Wagner is the NEOY winner for the High School Specialist category. She effectively and fantastically replaced an iconic veteran band teacher. Wagner leads with passion and energy and is a positive influence on campus. Wagner and her students performed at every VVHS football and basketball game this school year, but the Jazz Band performance at the Scholarship Dinner was a community hit.