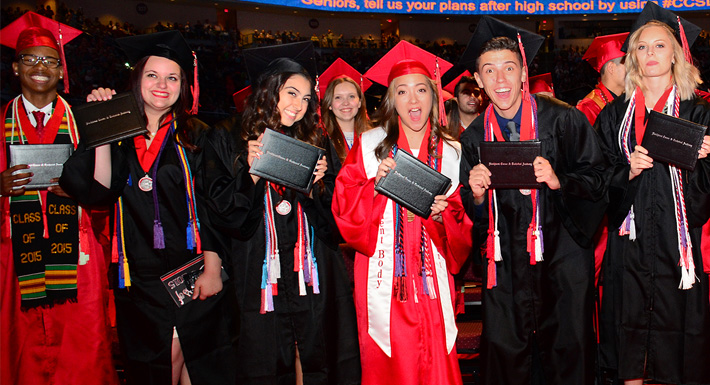 20 Oct

CCSD graduation rate shows improvement

The Clark County School District continues to make progress on improving its graduation rate according to preliminary figures released by the state of Nevada. The data showed CCSD's graduation rate increased by more than one percent during the past year. The new graduation rate of 72.07 percent marks the first time since 2004 that the district's graduation rate topped that mark.

The increase shows that the district's efforts are having a positive impact and more students are meeting the requirements to obtain a high school diploma. It also shows that the district has improved its graduation rate a full 10 percent in the last four years as the graduation rate was at 61.5 percent in 2012.

In addition to the increase in the graduation rate, the district also set a new record with 16,877 graduates for the Class of 2015, which was nearly 300 more graduates than the year before. Chief Student Achievement Officer Dr. Mike Barton was pleased to see an increase but knows there is still a tremendous amount of work to be done.

"We are always happy to see an increase in our graduation rate," said Barton. "While this is good news for our high schools, we also want to give credit to employees at our elementary and middle school because they are doing a better job of preparing our students for entry into high school."

Barton attributed the overall increase to a variety of measures that have been implemented to assist students, including schools monitoring students earlier and more often to make sure they are credit proficient. He also mentioned additional and alternative opportunities like summer school and online classes that are available and helping students to complete their requirements. Other items Barton mentioned include the expansion of Magnet Schools and Career and Technical Academies along with mentoring programs like those coordinated through the district's School Community Partnership Program.

Other highlights of the report include six schools with 100 percent graduation rates for the Class of 2015 including:
CSN HS East                                                                                   

CSN HS South

CSN HS West                                                                                  

Indian Springs HS

Sandy Valley Jr./Sr. HS                                                                  

Veterans Tribute CTA

Among schools that have had low graduation rates in the past and were reclassified as Turnaround Schools, all six have showed a positive three-year graduation trend and continue to make progress, including a nearly 20 percent increase at Sunrise Mountain High School.
"I am very proud of the job our Turnaround Schools have done in improving their graduation rate," said Barton. "They have taken schools with the lowest rates and implemented a very intensive approach to working with their students through measures like cultural competency training for staff and individual work with fifth-year seniors in order to help them reach their goal of graduating. Congratulations to all of our employees who have helped our students succeed."