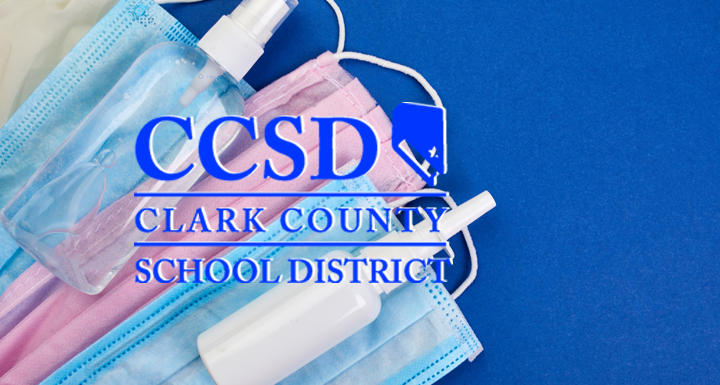 21 Mar

Updated health and safety guidance
COVID-19 Positive Cases Dashboard
 Click here to access CCSD's COVID 19 Positive Cases Dashboard.
The dashboard allows students, parents, staff and the public to locate and identify which schools and work locations have had or currently have positive COVID-19 cases. Cases displayed on the dashboard are cumulative cases tracked since March 16, 2020 for staff and students.
It is important to note that data utilized to update the dashboard are based on internally confirmed and self-reported COVID-19 positive lab results. The dashboard does not make a distinction between students who are in distance education, hybrid or face-to-face instruction models.  
---
Click here for the Reopening Guidance website.
---
Updated Health and Safety Guidance
Effective March 9, 2022, the Clark County School District implemented the revised Plan for Path Forward Program of Distance Education and Plan for the Safe Return to In-Person Instruction and Continuity of Services, which was approved by the Southern Nevada Health District. Personnel are currently working on updating the Reopening Guidance to align with these changes.
The plan includes COVID-19 mitigation strategies for Low, Medium, and High Levels of Transmission. Currently, Clark County is in Low Transmission; therefore, the District will follow the protocols outlined in the plan within Low Transmission. Pertinent information during Low Transmission includes, but is not limited to, the following:
Staff must utilize eMocha Health for daily symptom monitoring.

Schools must maintain separate sick and well rooms.

Staff at an increased risk (i.e., work in the sick room or perform aerosolized procedures) of COVID-19 exposure must wear an N95 respirator.

Parents/Guardians must ensure their child(ren) are symptom free prior to coming to school.

Staff and students returning from a confirmed positive COVID-19 diagnosis must wear a mask for ten days.

Staff and students exposed to a COVID-19 positive individual must wear a mask for ten days.

Cohorts are not required for outdoor activities and recess.

Masks are not required on school buses.

Staff are not required to participate in mandatory COVID-19 testing.

Identified students, including student athletes, are not required to participate in mandatory, weekly COVID-19 testing.
Students and staff may participate voluntarily in COVID-19 testing at designated sites for COVID-19 symptoms and at designated locations for asymptomatic purposes. Students and staff are encouraged to participate in up to date COVID-19 vaccinations to decrease the spread of COVID-19.