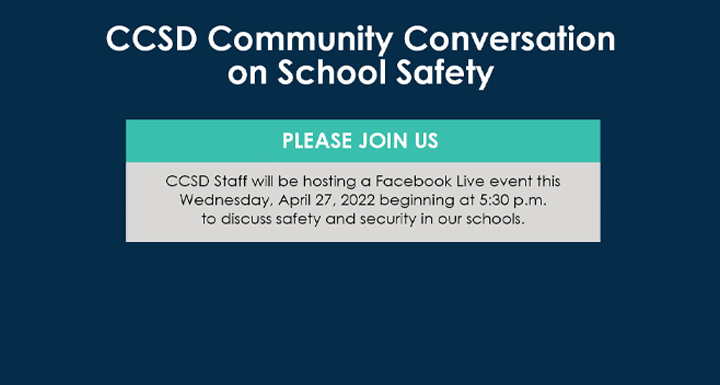 27 Apr

CCSD Community Conversation on School Safety

In an effort to provide an opportunity for our community, teachers, parents, and students to share their questions and ideas for safety and security, CCSD staff will host a Facebook Live event this Wednesday, April 27, 2022 beginning at 5:30 p.m.  Prior to this online event, participants will have the opportunity to submit their questions to EngageCCSD@nv.ccsd.net. We encourage you to join us to learn more about CCSD safety and security updates.
---
En un esfuerzo por brindar la oportunidad para que en nuestra comunidad, maestros, padres y estudiantes compartan sus preguntas e ideas sobre la seguridad y la protección. El personal de CCSD organizará un evento en línea de Facebook Live este miércoles 27 de abril de 2022 a partir de las 5:30 p.m. Antes del evento en línea, los participantes tendrán la oportunidad de enviar sus preguntas a EngageCCSD@nv.ccsd.net. Le recomendamos que se una a nosotros para obtener más información sobre las actualizaciones de seguridad y protección de CCSD.