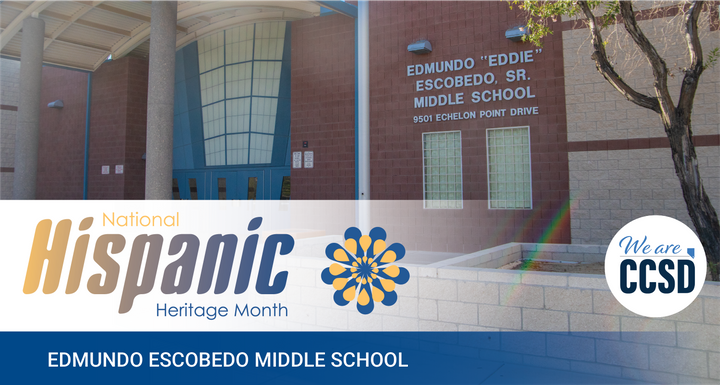 22 Sep

CCSD celebrates its namesakes: Edmundo "Eddie" Escobedo

The legacy of Edmundo "Eddie" Escobedo will live on forever within the Clark County School District (CCSD) community. 

Mr. Escobedo was a distinguished businessman and supporter of various local Hispanic and civic organizations in Las Vegas. 

Born in Torreon, Coahuila, Mexico, Mr. Escobedo arrived in El Paso, Texas in 1953 where he worked in the food service industry before enlisting into the Air Force where he worked on jet mechanics as a parachute rigger. 

After being honorably discharged from the military he landed in Clark County where he began his entrepreneurship promoting live Mexican dances with top musical groups. He then went on to run the region's only Spanish movie theater, El Rancho and built the first Hispanic business center, the Escobedo Professional Plaza which aimed to help growing Latin businesses have a place in the community. 

With the help of Hank Greenspun, in 1980 Escobedo began publishing the "El Mundo" newspaper that targeted the rapidly growing Hispanic population in Las Vegas. He ran this business for nearly 40 years until his passing. 

Apart from being a successful businessman, he was also a big supporter of various Hispanic and Civic organizations. To name a few, he was the founder, vice president, and president of the National Association of Hispanic Publications, president of Amigos for Democracy, Board of Directors of Sunrise Hospital and founder and president of Mexican Patriotic Committee. Escobedo was continuously recognized for his efforts and was named Latin Chamber of Commerce "Citizen of the Month" and is included in the list of the 25 most influential people in Las Vegas. 

By contributing his time and money he wanted to make sure that Hispanic youth had the opportunity to receive a college education. Those efforts were recognized in 2008 when the Clark County School District accepted the recommendation of naming a new middle school after him. He will always be a reminder of the significance and impact that an individual can have on a community and he will always be remembered for those efforts.