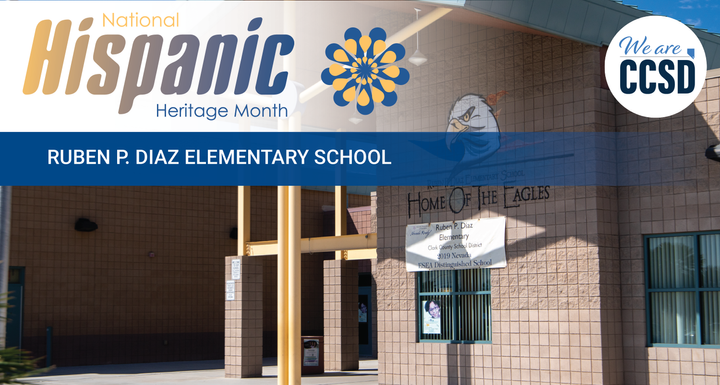 15 Sep

CCSD celebrates Hispanic Heritage Month honoring namesakes: Dr. Ruben P. Diaz

As part of National Hispanic Heritage Month, the Clark County School District (CCSD) is recognizing the contributions and influences that Hispanic Americans have made to the history, culture and achievements of the United States. 

As part of the celebration between Sept. 15 and Oct. 15, CCSD is highlighting different Hispanic American namesakes within our district. These schools have been named after influential people who made a long-lasting impact on the Clark County community. 

The first namesake being highlighted is Dr. Ruben P. Diaz. 

Dr. Diaz was born in 1953 in California where he stayed and pursued various education titles. 

He received a double degree in nursing and biology from California State University, Bakersfield. He then received his medical degree from the University of California, Irvine and later followed it with a fellowship in Pediatric Pulmonary Medicine in Los Angeles. 

In 1991, Dr. Diaz moved his family to Las Vegas where he began a private practice called Children's Lung Specialist. That very same year University Medical Center named him the director of the Pediatric Pulmonary Services and director of the Cystic Fibrosis Center. 

He also pursued research projects and clinical trials that would benefit those who suffered from respiratory problems. Dr. Diaz is also published in various international publications and has received numerous prestigious awards and recognitions. 

We are proud to display Dr. Ruben P. Diaz's name on one of our local elementary schools because of his significant contributions and dedication to the healthcare system. 

To learn more about CCSD's Hispanic namesakes, visit newsroom.ccsd.net throughout Hispanic Heritage Month which runs through Oct. 15.