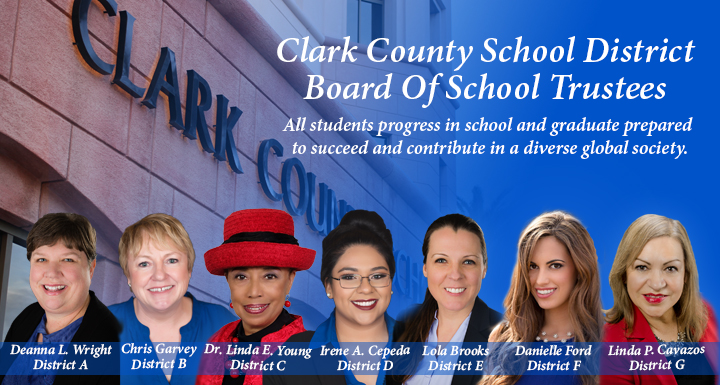 26 Apr

CCSD Board of School Trustees April 25 meeting recap

Board Agenda Item 6.02 – Board and Superintendent Communication

CCSD Superintendent Dr. Jesus F. Jara communicated a districtwide long-term strategy to ensure students feel safe in school, and to address race and other biases at Arbor View High School. The Clark County School District (CCSD) Board of School Trustees was updated regarding anti-bias trainings to be conducted by the Anti-Defamation League that will take place at Arbor View High School with parents and staff.

Jara said this is a short-term intervention that is part of the cultural transformation at Arbor View. In the long term, CCSD will work with the National Equity Project on implicit bias and cultural competency training at Arbor View and other schools around the district.

Click here to read Superintendent Jara's comments.

Click here for an Update on the Implementation of SEOAC Recommendations.

Board Agenda Item 5.02 – Qualitative Budget Forecast Update

The Trustees received an update on the District's budget by Chief Financial Officer Jason Goudie for fiscal year 2019. The amended final budget has an estimated ending fund balance of $45.8 million. CCSD still anticipates an unassigned ending fund balance of 1.75%, which is enough funding to operate the school district for less than 7 days.

To view the document related to this item, click here.

Board Agenda Item 5.01 – Employment Agreement – Chief of Facilities

The Board of School Trustees unanimously approved the hiring of David P. McKinnis as the district's new Chief of Facilities.

McKinnis has extensive experience managing facilities at properties on the Strip, currently serving as the Vice President of Property Operations at Bellagio Hotel and Casino, a world-class iconic property.

Dr. Jara said McKinnis will lead CCSD's increased focus on ensuring that district facilities are properly maintained, while also overseeing construction, expansion and renovation of facilities.

Jara cited a recent report conducted by the Council of the Great City Schools. While the report commended CCSD in several areas related to facilities, including saving money by using prototypical designs for new schools, it also found that the district needs to do more to evaluate the effectiveness of contractors, and should implement a formal energy management and conservation program.

The report also called for an up-to-date, long-term facilities master plan, and a formal plan for predictive, preventative, or routine maintenance. CCSD currently has about $6 billion in deferred maintenance.

To view the document related to this item, click here.

Board Agenda Item 3.32 – Agreement between CCSD and Nevada Department of Transportation – Safe Routes to School.

The Board of School Trustees unanimously voted to approve the Safe Routes to School (SRTS) Bike Fleet Supplemental grant.

The program, funded through the Nevada Department of Transportation, will expand the current SRTS program by adding two additional mobile bike fleets for schools to utilize.

Schools use the fleets in "bike rodeos" that help students learn how to ride bikes safely. The grant approved will create a supplementary special needs mobile bike fleet with modified bikes, five middle school-based bike share fleets, and five elementary school-based fleets.

The SRTS program, which focuses on improving and increasing health, safety and transportation options for CCSD students, was established in August 2005 as part of the Federal Highway Transportation Bill and is intended to benefit K-8 students and their families.

To view the document related to this item, click here.