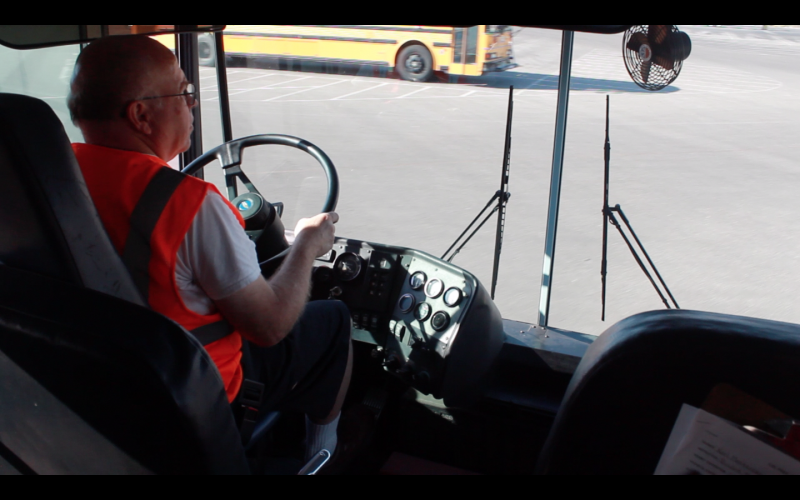 14 Sep

Behind the wheel of CCSD's buses

It's a warm Thursday morning. Karl Mortensen grabs a safety vest and heads out into the bus yard to inspect his bus. But he won't be driving it out today. Mortensen is on his final days as a bus driver trainee. He will be a full-fledged bus driver after passing the program.

For Clark County School District to safely transport its tens of thousands of students to and from school, it relies on more than 1,400 highly trained bus drivers. From pre-trip inspections to road skills, trainees receive comprehensive instruction on bus driving in order to pass Nevada Department of Motor Vehicle's Commercial Driver License testing.

For Mortensen, it's a chance to be closer with his daughters. Mortensen's oldest daughter is a teacher at Desert Oasis High School and his youngest daughter attends Lawrence and Heidi Canarelli Middle School.

"I took an early retirement after driving for UPS for 15 years in Monterrey, Calif.," said Mortensen. "I was not looking for a full-time job, but my daughter told me that CCSD needed bus drivers. I was hesitant at first but I learned that CCSD offered classes on bus driving."

Bus driver trainees like Mortensen spend 12 days learning the ins and outs of bus driving. In order to pass CDL testing, trainees are required to know which parts to inspect under the bus, and inside and outside the bus before each drive. Trainees must go on a drive tests as well.

"In the 12 days of training, we take the trainees out on drives and teach them about every part they need to inspect before each drive as well as performing basic backing skills," said Transportation Lead Instructor Sandy Orr. "With all that knowledge put together, we test them for the endorsement needed for a CDL license from DMV."

CCSD still needs to fill 80 bus driver positions to operate its fleet of over 1,600 buses. The requirements to be a bus driver are a high school diploma or other equivalent (e.g., GED, foreign equivalency, etc.), or successful completion of the written test for the Commercial Driver License Class B with a passenger and school bus endorsement; a safe driving record; and the applicant must be at least 21 years of age. The CDL Class B license must be obtained prior to the applicant's start date and the applicant is required to self-certify as interstate, non-excepted.

"The training is intense," according to Mortensen. "I am learning a lot more about my overall driving and traffic habits on top of the district's bus driving policies and general driving laws."

For more information on applying for the bus driver trainee position, visit www.teach.vegas and click on the Support Staff Job Opportunities link.