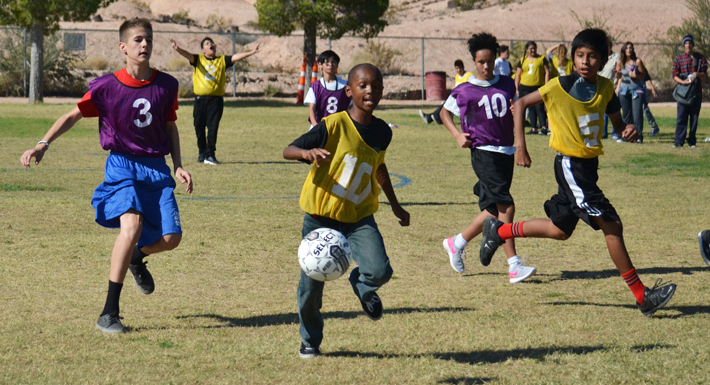 15 Nov

Adapted P.E. Department ensures variety of activities for children with disabilities

In the words of Barbara Chambers, "Children with disabilities are children first, with the same hopes and drives of their non-disabled peers." Chambers is the coordinator of the Clark County School District (CCSD) Adapted Physical Education Department.

In 1975, Public Law 94-142 identified Physical education (PE) as being an essential part of the basic educational program for individuals with disabilities, specially designed if necessary, contributing to the development of the total individual. Furthermore, the Individuals with Disabilities Education Act (IDEA 2004) states that students with disabilities should have the same access to PE as do their non-disabled peers. Chambers said, "Students with disabilities have the right to access PE in their 'Least Restrictive Environment,' and not all students with disabilities require specially designed instruction to be safe and successful."

In CCSD, Adapted Physical Education (A.P.E) is a full inclusion special education service that provides school-aged children with special needs access to the general physical education curriculum. The district's 63 itinerant APE teachers are assigned to all CCSD schools, serving about 2,000 students in any given year.

Each A.P.E. specialist provides services to students identified through assessment as needing A.P.E. intervention, on a regular schedule. The A.P.E. specialist, with a caseload averaging about 30 students, may also provide staff with playground modification or recess accommodations for students with special needs.

Students with special needs are often excluded from sports that are available to their non-disabled peers. CCSD students with disabilities are given the opportunity to learn sport specific skills, participate in athletic activities, and be part of a school team within their school community, through the school-based Special Olympics program. Unified Sports programs pair athletes with disabilities with non-disabled peers in soccer, basketball, and track and field. As an example, more than 600 students from CCSD middle and high schools took part in a recent Unified Soccer tournament at Thurman White Middle School. This is the 15th year of CCSD's partnership with Special Olympics of Northern California and Nevada.

On Nov. 18, 90 Functional Living Skills (FLS) students from a dozen CCSD elementary schools will take part in the "Ultimate Challenge" at Victoria Fertitta Middle School. Chambers said although FLS students have the most serious disabilities, they gain a lot from the semi-annual Ultimate Challenges. "This is a specially designed activity that offers students many fun activities with plenty of music and visual stimulation." Still more students get the chance to take part in bowling events that are held throughout the year.

Chambers, a California native, had nothing but praise for CCSD's PE curriculum. Noting that the A.P.E. program aims to supplement what the PE teachers are already doing, Chambers said the itinerant teachers can address the specific needs of children with disabilities while the PE teacher oversees a class that may contain 80 or more students.

Chambers added that A.P.E. also has a monthly after school Paralympic sports program that collaborates with the Las Vegas Adaptive Recreation Department. Designed for children who have physical disabilities or are visually impaired, the program has been in operation for nearly 20 years. The Paralympic Sports Club has a competition team that takes part in various adaptive disability competitions.

For more information about A.P.E., call 702-799-0104.