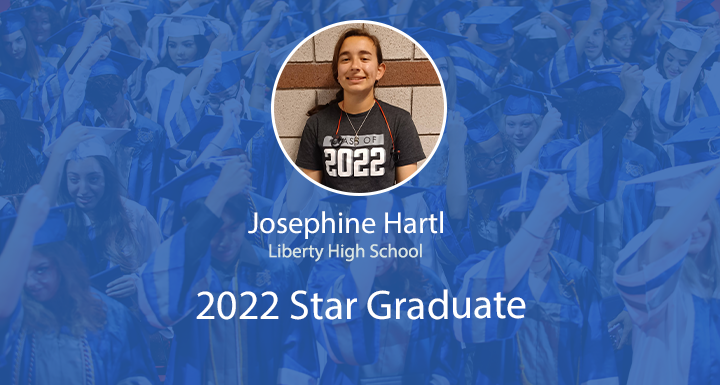 25 Apr

Star Graduate – Liberty

Superlatives cannot even begin to describe the impressive resume of the awards and achievements for Josephine "Josie" Hartl. Josie is on track to graduate with an Advanced Honors Diploma. She is ranked 1st out of more than 700 students in her graduating class. Josie has taken the most rigorous courses including Honors and AP courses. Through seven semesters of high school, Josie has earned a 5.225 weighted GPA. She has done well on her AP exams and is a candidate for the AP Capstone Diploma. Josie participates in Liberty's Chamber Choir and earned a spot on the 2021 CCSD Honor Choir. Josie is active in Varsity Quiz and currently serves as president of the team.

In addition, Josie is a talented athlete. She has served for three years as girls captain of the Downtown Las Vegas Soccer Club 04. She was a youth soccer coach at Longevity Sports Center for almost 2 years where she created the goalkeeper training program for students aged 7 – 12 years old. She will study Secondary Education and hopes to be a math educator. Josie is intelligent, talented and patient. She wants to join the ranks of teachers who serve to inspire future generations.

To view more Class of 2022 CCSD Star Grads, click here.