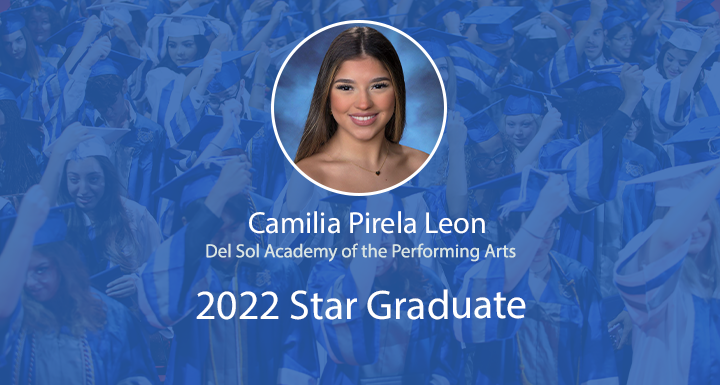 25 Apr

Star Graduate – Del Sol

Camila came to Del Sol Academy to pursue dance after leaving a difficult situation in her home country of Venezuela. She started school with us in the middle of her 9th grade year with limited English. This was a struggle for her because she had to work even harder to do well in her courses all while learning the language and culture of a new country. Despite this obstacle, Camila has thrived and excelled in all of her courses.

In addition to Camila's outstanding academic performance, she is empathetic, a natural born leader, and is determined to succeed. She has been a key component of Del Sol's dance magnet program, Dance Company, and participated on the varsity cheer team. In addition to her after school commitments at Del Sol, Camila also participates in dance companies within the community. She is committed to continuing to develop her talents in dance and would like to help the Latin community as she recognizes that resources and opportunities to grow and develop talent are very limited. She is an amazing young lady that has worked tirelessly to pursue her dreams.

To view more Class of 2022 CCSD Star Grads, click here.