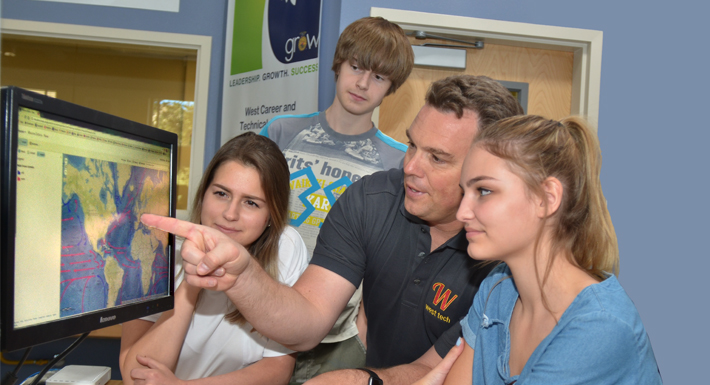 22 Sep

West CTA one of few high schools in the nation to offer GIS class

It would be an understatement to say West Career and Technical Academy (West CTA) teacher Jeff Gromny has an unusual background. The environmental management teacher spent 20 years working at the Yucca Mountain Nuclear Waste Repository in Nye County, 80 miles northwest of Las Vegas. When the project was shut down, he was offered a job out-of-state but decided to stay in Nevada and become a teacher, putting his scientific knowledge and experience to use in the Clark County School District (CCSD).

A native of Niagara Falls, New York, Gromny brought more than a unique background to West CTA. Thanks to him, West CTA is one of just a handful of high schools in the United States to offer Geographic Information System (GIS) classes. According to Esri, a mapping software company, GIS "lets us visualize, question, analyze, and interpret data to understand relationships, patterns, and trends." Gromny describes GIS as "Google Earth on steroids."

GIS benefits organizations ranging from police departments and hospitals to engineering companies and real estate firms. As an example, Gromny said, "If you wanted to open a coffee shop, GIS will tell you how many coffee shops are near you, how far away they are located, the population of the area and much more." He said GIS would provide a "huge relational database with maps and pictures."

Gromny, who heads up West CTA's environmental management program, said all juniors in the program are required to take the GIS course. About 30 students are in the class, representing a big increase from the seven students who took the first class seven years ago. "People are starting to catch on to it," said Gromny.

The class has already proven its value to several of Gromny's former students. He said, "In many cases, my students get jobs in the GIS field right out of high school." One big plus for his students is that they can obtain a professional learning certificate after taking the GIS course. It's the same certificate earned by adults who want to work in the GIS field.

CCSD makes heavy use of GIS data. Sean Sullivan of Demographics, Zoning & GIS (DZG) said the department has four employees who are dedicated to meeting the district's GIS needs. Besides DZG, other departments using GIS include Transportation, which employs GIS for bus operations. Additionally, the Real Property Management Department utilizes GIS for site selection and right-of-way management.

Sullivan said, "As education administrators are trying to weave more STEM (science, technology, engineering and mathematics) based learning into their core curriculum, GIS by its essence encourages students into an approach of active learning and problem solving. This helps to prepare a technology-savvy future work force for a growing Nevada."

West CTA Principal Amy Dockter-Rozar said, "Mr. Gromny brings more than the content knowledge to his classroom – he brings passion. The hands-on projects, labs and field work engage students in meaningful and 'real' work so they can see what they are learning in class applied to their community and lives."

As for Gromny, he said he likes the "wow factor" from students as they learn about GIS. "I don't just have them read the textbook. I give them minimal information and see how they can work it out. Eventually they start figuring it out as they do it. It's a lot of fun."

To watch Gromny's "Chalkboard Story" video, click here. To read a special thank-you letter he received from one of his former students, click here.