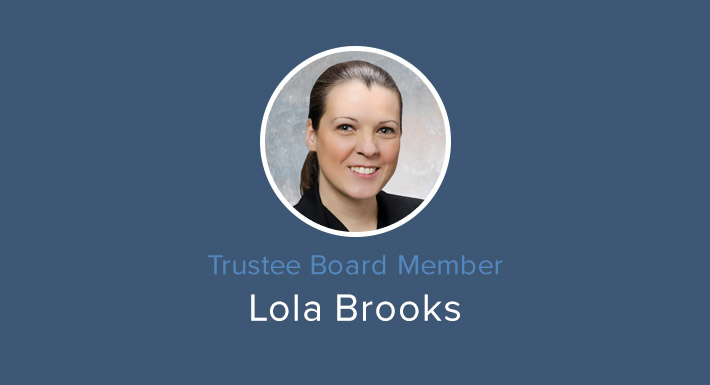 11 Jan

Trustee Lola Brooks keen on data-driven solutions

On Jan. 3, 2017, Clark County School District swore in Lola Brooks, the new trustee charged with ensuring the success of every student in Clark County and especially in District E, on the west side of the Las Vegas valley.

Brooks understands the value of education, as she waited tables to fund her desire to graduate with a bachelor's degree in psychology. Brooks also received her master's degree in social work, with a focus on system-level changes. She is the first member of her family to attend college.

Her will to face challenges, in addition to her belief in the power of education, motivated her to run for the District E seat.

"Talking to other parents and working on local education initiatives gave me some insight into the challenges the district faces. I felt a sense of obligation to do more," she said.

An issue Brooks is eager to tackle is improving academic outcomes and graduation rates with data-driven solutions.

Her work as a project coordinator for the United Way of Southern Nevada gave her the know-how on how to use information and data to improve results for a variety of education initiatives.

"I take a human approach to data. I try to look at the whole picture – everything from a program's history to outside opinions on it – and then determine which actions need to be taken," Brooks said.

The district, at the beginning of the school year, debuted Datalab, a tool Brooks said she may find helpful in her quest to promote data-driven solutions. Datalab allows teachers and principals to look at various assessment-related data at the school and district levels.

Another topic Brooks is passionate about is career and technical education – after all the new trustee built her own campaign website.

"Regardless if a student doesn't plan on a career in a technical field, they need those skills for the jobs of the future," Brooks said. "If a student isn't learning coding or computer basics, they might be behind."

With a lot more ideas Trustee Brooks campaigned on, she is eager to start engaging on those issues.

"There are a number of things this community and the district should be talking about, but we often focus on the wrong things," Brooks said. "We need to improve our focus and be more strategic with our energy and resources."

For more information on Trustee Brooks and District E, visit ccsd.net/trustees.