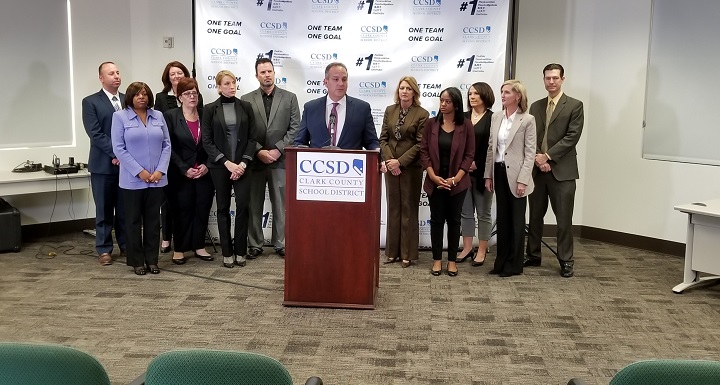 27 Feb

Superintendent announces leadership team to oversee Teaching and Learning

On Feb. 11, Clark County School District (CCSD) Superintendent Dr. Jesus F. Jara announced the new leadership team in charge of teaching and learning, who will be implementing the district's ambitious five-year strategic plan. The three new region superintendents will be assisted by six school associate superintendents in supervising CCSD's 360 schools.

The three new region superintendents are School Associate Superintendent Grant Hanevold, Franchise Principal Debbie Brockett and Dr. Karla Loria, who is currently serving as the Human Capital Officer and Student Support Officer at Harrison School District Two in Colorado.
The Focus: 2024 strategic plan lays out an ambitious agenda over five years to make CCSD #1ForKids and the most improved urban school district in the nation. Major goals by 2024 include: 
No 1- or 2-Star schools
90% graduation rate
100% increase in students graduating college or career ready
100% increase in participation and performance on Advanced Placement, International Baccalaureate, dual enrollment, and Career and Technical Education
The final plan will be considered by the Board of School Trustees at their meeting Feb. 28.
Not pictured above were School Associate Superintendents Ann Hembrook and Sam Scavella.