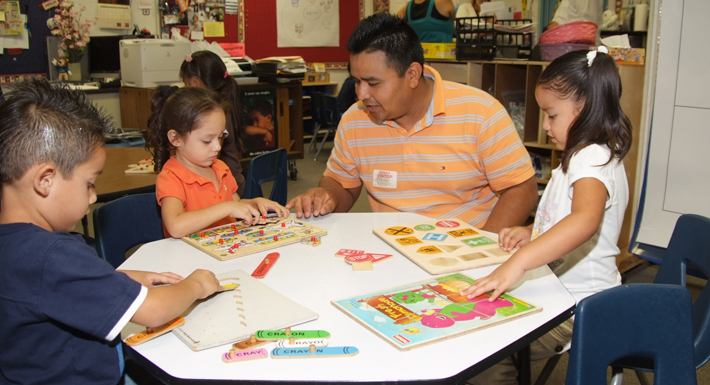 19 Jan

Implementation of ELL Master Plan moves forward

The Clark County School District (CCSD) continues to move forward with the implementation of its Master Plan for English Language Learners (ELLs).

The plan, which was approved by the Board of School Trustees in May 2016, consists of five strategic objectives designed to improve the skills and proficiency of students whose primary language in not English.

The five objectives are:
Advance the quality of teaching for ELLs
Diversify instructional program options for ELLs
Hire, retain and continually support high-quality educators of ELLs
Foster a climate and culture that values the diverse needs of all ELLs and engages their families
Align policies, structures and practices across schools and departments for equitable learning opportunities
According to Assistant Superintendent Ignacio Ruiz, a brief video outlining the strategic objectives of the plan was created and delivered to schools in August. About 14,000 CCSD employees, representing more than 300 of the district's schools have already viewed the video.
"The Master Plan was created so that ELLs can choose their own futures rather than having it chosen for them.  All of us, teachers, administrators, support staff, parents, school board members and the community at large, have the same aspirations for our ELLs…college and career readiness.  We must work together and share the responsibility because success is the sum of our efforts," said Ruiz.
Another component of the plan that directly impacts employees is the professional learning plan, which describes how educators will engage in systematic change to the Academic Content and Language Achievement Model. Under this plan, which rolls out to all CCSD schools over the span of five years, educators will be required  to attend 16 hours of annual professional learning on the Language Development Approach and the Six Principles of Effective ELL Instruction each year for three years.
The first phase implementation consists of about 80 schools, followed by an additional 126 schools in the second phase.
The Master Plan also includes components for engaging students' families.
"We can have our teachers do an outstanding job, but we will not be fully successful without the support of our parents," said Ruiz. "Their participation is crucial to our success, so we want to work on getting more of them involved in their child's education."
As a result, the ELL Division has developed University of Family Learning courses and so far, more than 200 parents and guardians have participated in those classes.
To learn more about the ELL Division and the ELL Master Plan, visit their website.